The Rite Trailer 2: Anthony Hopkins Is Not As He Appears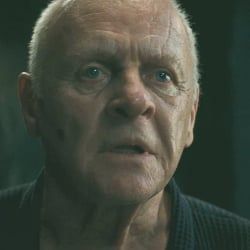 In late winter last year Anthony Hopkins arrived on movie screens in a pretty terrible faux-horror movie as a creepy old man with special powers in The Wolf Man. Even though pretty much nobody was happy about that movie, Hopkins apparently felt he was on a roll, and he'll be at it again this January in The Rite, this time playing a priest obsessed with exorcisms who--spoiler alert?--may be dealing with some demonic influence himself.
I don't think that's actually a spoiler because it's a major part of the new trailer for the film, which debuted at Apple and can also be seen embedded below. But given how often trailers spoil the entire film in just a few minutes, it's hard to say. Check out the trailer below if you're so inclined and we'll discuss after.
Much like the first trailer that hit back in October, the trailer tries to connect its story with what's apparently a real-life spike in exorcisms in the Catholic Church. It introduces a lot of plot elements that weren't in the first trailer, though, including some kind of connection between the devil and cats and also the aforementioned suggestion that Hopkins' character might be possessed himself. It also reveals that Ciaran Hinds is in this movie; between him, Toby Jones, Rutger Hauer and Hopkins himself, The Rite has a far better cast than I would ever expect from a late-January horror movie release.
Of course, I don't expect this cast to make The Rite any less silly than the trailers seem-- The Wolfman taught me my lesson once and for all. But if we can't convince Mack Rawden to review this one and I have to see it for some reason, at least I know I'll have Ciaran Hinds for company. The Rite opens January 28; you can learn more about it in our Blend Film Database.
Staff Writer at CinemaBlend
Your Daily Blend of Entertainment News
Thank you for signing up to CinemaBlend. You will receive a verification email shortly.
There was a problem. Please refresh the page and try again.