Rob Corddry Joins The Butter Sculpting Madness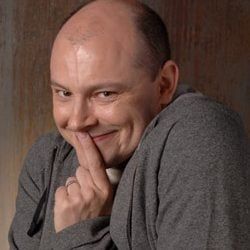 Rob Corddry wasn't exactly immune from the flaws of Hot Tub Time Machine-- his asshole rock star character made about as much sense as the time travel gambit itself-- but he sure was funny in it. Of course, Corddry has been funny for years, showing up everywhere from The Daily Show to Harold and Kumar Escape from Guantanamo Bay, but Hot Tub Time Machine may have been his ticket, at last, to actual major movie roles.
The LA Times is reporting that Corddry is joining the cast of Butter, the dramedy starring Jennifer Garner as the ambitious wife of a former Iowa butter sculpting champion (Ty Burrell). Corddry's role isn't specified in the piece, but if the film is intended as an allegory for the 2008 Presidential primary, and Garner and Burrell's characters represent the Clintons, maybe Corddry is John Edwards? Or, somehow, Mike Huckabee? I've actually got my hands on the script and will hopefully be figuring this one out shortly. For now, though, just rejoice that we get a little more Rob Corddry to look forward to.
Staff Writer at CinemaBlend
Your Daily Blend of Entertainment News
Thank you for signing up to CinemaBlend. You will receive a verification email shortly.
There was a problem. Please refresh the page and try again.