Robert Downey Jr. Is Kind Of Getting Sick Of Superhero Movies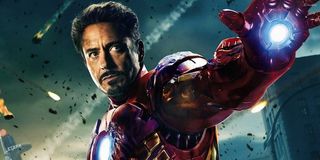 Robert Downey Jr. has been in the superhero game for over seven years, and he shows no signs of stoping. Next year, Tony Stark will return alongside his fellow Avengers in Avengers: Age of Ultron, and it was revealed yesterday that Downey is in final negotiations to join Captain America 3. Clearly Downey is still on board for Marvel's future plans, and although he still seeks other creative endeavors, these superhero movies mean a lot to him. Well, Marvel's at least. Other superhero movies, not so much.
The day before the Captain America 3 announcement, Downey was asked by The Telegraph if he ever gets jealous when another superhero movie comes out. Downey response didn't indicate he was jealous so much as worn out by the genre. Said the actor,
Downey added that these movies are akin to "a bunch of really good dancers and you're looking for the one who keeps changing her leg warmers," and that they make a lot of money. It's a good thing he likes playing Stark, because he's in it for the long haul. After Avengers: Age of Ultron, and Captain America 3, he also has The Avengers 3, and if Stark's role for the future of the MCU is as important as we're led to believe, then he could wind up signing on for even more movies. He is right, though. The amount of superhero movies coming out per year is incredible.
Although 2015 isn't far away, let's skip ahead and look at all the theatrical superhero movies planned for 2016: Deadpool (though he's more of an anti-hero), X-Men: Apocalypse, Captain America 3, Doctor Strange, Batman V Superman: Dawn of Justice, Teenage Mutant Ninja Turtles 2 and Sinister Six. That's seven superhero movies in one year! Now flashback to 2006. What did superhero movies did we get that year? X-Men: The Last Stand and Superman Returns. So the total has nearly quadrupled in 10 years! It's impressive how far the genre has come, but it's easy to understand someone's train of thought when they claim the market is over-saturated.
Downey does bring up a good point; with superhero movies, especially when it comes to ordering sequels: profits usually mean more than quality when determining success. If quality was the sole indicator, then Dredd would have had a sequel ordered right away. Still, these movies need to be judged based on individual merits rather than how many of that genre are released in a year. No one ever says there are too many romantic comedies, action features of sci-fi movies per year. It's possible that one day the superhero movie genre may start to dry out (but not completely die), but for now, just be thankful that superhero entertainment has reached new levels of popularity. All types of audiences can enjoy these, not just the comic book geeks. That's a win for everybody.
Your Daily Blend of Entertainment News
Connoisseur of Marvel, DC, Star Wars, John Wick, MonsterVerse and Doctor Who lore. He's aware he looks like Harry Potter and Clark Kent.