Robert Pattinson Rumors Say He's The Frontrunner To Play Indiana Jones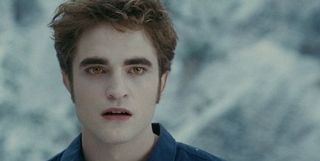 It's no secret that, while everyone went bonkers over Disney acquiring Lucasfilms for Star Wars Episode VII and its spinoffs, Disney also had plans for Indiana Jones. Whether those plans involve Harrison Ford or not is up for debate, as Ford turns 72 this year. If Disney doesn't think he's up to it, could we possibly see a younger man pick up the fedora? And could we pick a name out of a hat and say it's going to be Robert Pattinson?
The Daily Star is joining other publications in claiming that Robert Pattinson is on a shortlist of actors being considered by Disney to play the new Indiana Jones. With Ford currently busy with Star Wars, an "insider" is quoted as saying:
Look out, RPatzz! Sounds like there are a whole lot of people ready to take your hypothetical job that doesn't exist!
It's certain that Indiana Jones is going to come roaring back to life at some point. And it's very possible that there will be a new actor in the role – particularly considering if Ford returns, you have to address Mutt, and you can't address Mutt, because Shia LaBeouf is Not Famous. This leads to what basically amounts to open season as far as casting rumors are concerned. Anybody could play Indiana Jones! Ergo, everyone can play Indiana Jones!
Pattinson seems like he'd be more interested in a hole in his head than the lead role in yet another demanding franchise. By the end of the Twilight cycle, it seemed at if those films were actively killing him, and the press tours became studies in existential despair, handled with Pattinson's proven good humor.
It's unlikely that he needs a new franchise so soon, and he's shown a desire to work with some of the best filmmakers in the world in lieu of superstardom. He recently showed up in two films at Cannes, The Rover and Maps To The Stars, and is next working with Olivier Assayas on Idol's Eye. It doesn't seem like a career path of someone who wants to be world famous, but even if there's truth to this totally made-up sounding story, it's because Disney wants him. Is the feeling mutual?
Your Daily Blend of Entertainment News
Thank you for signing up to CinemaBlend. You will receive a verification email shortly.
There was a problem. Please refresh the page and try again.