Robert Redford May Star In All Is Lost, Margin Call Director's Next Film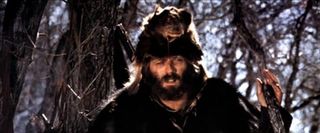 Director J.C. Chandor may only have one feature film under his belt, but he landed one hell of a cast for his debut outing. Margin Call, a financial thriller that opened in limited release in October, sported a cast that included Kevin Spacey, Jeremy Irons, Paul Bettany, Stanley Tucci, Demi Moore, Simon Baker, and Zachary Quinto. It was also, if I might add, a pretty entertaining flick. Now Chandor (no relation to Ivo Shandor) is lining up his next feature film project, and he definitely hasn't gotten any less ambitious in his casting preferences. Deadline reports that Robert Redford is in talks to star in Chandor's follow-up film, which sports the cheery name All Is Lost.
All Is Lost is described as a "man vs. nature" story and will be set "on the water." That could mean ocean, it could mean river, it could mean oversized above-ground swimming pool. Okay, the former is probably the most likely, because Deadline's story also mentions that Chandor has been scouting the Baja Film Studios in Mexico, which is the locations of the big-ass water tank used in movies such as Titanic and Pearl Harbor. One thing is certain: Robert Redford will be damp in the near future.
Redford's potential casting isn't random, either. Supposedly Chandor met Redford at the 2011 Sundance Film Festival and then wrote the All Is Lost script specifically for the actor. This isn't the first time Redford has tackled nature head on: he played mountain man Jeremiah Johnson (pictured above) in Sydney Pollack's 1972 film. Hopefully in this battle between man and the elements, the elements will pull a few punches; Redford is 75 years old, after all...
Your Daily Blend of Entertainment News
Thank you for signing up to CinemaBlend. You will receive a verification email shortly.
There was a problem. Please refresh the page and try again.