This Robin Williams Rapid Fire Impressions Tribute Is An A+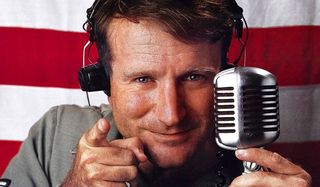 While Robin Williams may be gone, a video uploaded by actor Jamie Costa may help you forget that fact with a series of on-the-money impressions of the late actor's most iconic roles. It's a magnificent montage of mirth that absolutely nails everything that made the legendary actor/comedian such a once-in-a-generation treasure. Check it out for a quick dose of elegiac jocularity.
An up-and-coming actor with only a few minor projects on his CV, Jamie Costa may have put himself on the map in a way that's uniquely achieved in the new media age with a spectacular tribute to a man he says "ignited" his passion. With the efficiency of a machine that spews comedy, Costa's two-minute tour de force shows him roll through the definitive roles of Robin Williams in a way that not only effectively reproduces the late actor's greatness, but also manages to display Costa's own insane on the fly improvisation and impressive organizational skills.
Costa comes into the clips wielding that all-too-familiar voice rendered to perfection, right down to the critical detail of that subtle signature lisp. Yet, it isn't just that Costa sounds like Robin Williams. Freakishly enough, he actually LOOKS like him, as well. Driving that visual accomplishment home even further, each impression is accompanied by the appropriate costumes and props. In an achievement in itself, he managed to get gravity to cooperate in the Mrs. Doubtfire pie cream coffee bit.
The bits stretch back all the way to the beginning with the "Nanu Nanu" catch phrase that put Robin Williams on the map on TV with his Mork character on Happy Days and Mork & Mindy in 1978. From there, it's a cavalcade of comedic kills, with quips from Good Morning Vietnam, Popeye, Dead Poets Society, The Fisher King, Hook, Jumanji, Aladdin, The Birdcage, Jack, Flubber, and his turn as Teddy Roosevelt in the Night at the Museum movies. Of course, Costa also included highs like Williams' Oscar-winning role that found geniuses in janitors in Good Will Hunting, and lows like his pusillanimous paternity picture, Father's Day.
As a whole, this amazing video stands as both a touching tribute to the legendary talent of Robin Williams, which was tragically extinguished prematurely last August, and as an awesome exhibition of true comic talent in Jamie Costa. You'll laugh, you'll be sad, and you'll probably start to remember why Death to Smoochy was left out of the mandatory mix.
In the meantime, what will be the final performance of Robin Williams' storied career will manifest with a voice role as a talking dog in the upcoming Simon Pegg sci-fi comedy, Absolutely Anything, which he apparently did manage to complete. The film hits in the U.K. on August 14, with no U.S. date announced as of yet.
Your Daily Blend of Entertainment News