This Rotten Week: Predicting Elvis And Nixon And The Huntsman: Winter's War Reviews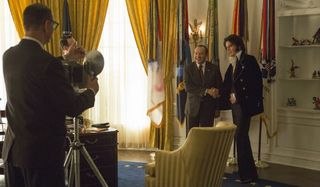 We are moving through the spring season, and while summer isn't here just yet, we still have some pretty big titles coming out. Get ready for Elvis & Nixon and The Huntsman: Winter's War.
Just remember, I'm not reviewing these movies, but rather predicting where they'll end up on the Tomatometer. Let's take a look at This Rotten Week has to offer.
Rotten Watch Prediction
Elvis & Nixon might wind up being totally fine, but I almost couldn't get passed a very simple thing: neither Kevin Spacey nor Michael Shannon look anything like Richard Nixon or Elvis Presley, respectively. Now, is this crucial to the overall arching theme and possible success of the movie? No. But considering those are two of the more popular figures in American history, you'd think there would be a little more effort to make the leads look, you know, like the real dudes.
Elvis and Nixon tells the story of the Blue Suede Shoe'd one showing up at the White House one day, requesting to be an undercover NARC and ultimately getting a famous photo shot with Tricky Dick. It looks cute enough on the surface, has an excellent cast, and the trailer provided a laugh or two. But I suspect the film is quickly forgotten in the Rolodex of movie history, and runs into problems with the leads performing more caricatures than actually diving into the real people. It won't bomb, but I can see it grating on certain critics.
Rotten Watch Prediction
Because remaking fairy tales is still kind of the rage, we are treated to another installment in the world of Snow White just after the release of The Jungle Book. Does anyone care? I didn't think so until I looked at the box office numbers for the first in the series, Snow White and Huntsman (48%). It kind of did great which goes a long way in explaining why there is a sequel coming out – albeit one focused only on The Huntsman.
Rather than seeing Kristen Stewart reprise her role as Snow White, The Huntsman: Winter's War is a prequel that instead follows the adventure of Chris Hemsworth's character. Thanks to an early release abroad, it's getting shelled by critics early and I think it stays in the basement. It wasn't like the first had a ton to stand on and the sequel seems like mostly a money grab.

This poll is no longer available.

Overall, last week was a strong one for the Rotten Watch, with two out of three predictions hitting the mark. First off, I had a head start with The Jungle Book (Predicted: 99% Actual: 95%), so it's tough to take too much credit there. The film crushed it with critics, who praised both the directing work from Jon Favreau and the performance from lead Neel Sethi. There was also a great amount of love for the visual effects, especially when it came to pulling off the talking animals, which is never an easy feat. All in all, this could have gone a completely different direction, but they appear to have taken a classic novel and Disney cartoon and made the live action adaptation something special.
Meanwhile Criminal (Predicted: 34% Actual: 26%) was right in range on the other side of the spectrum. I could tell this flick had a ton of issues right from the start considering the trailer just didn't seem to line up in anyway with the tone of the film. Everything about what was happening on screen screamed boilerplate action flick. And yet the trailer attempted to pull on heartstrings with a love story. It didn't meld together in the two minutes sneak peek and doesn't seem to have had any more clarity with the full run. Critics panned it and we will all forget it ever happened in two weeks.
And finally, we have Barbershop: The Next Cut (Predicted: 50% Actual: 92%), which was a big miss. I don't ever like being wrong on a prediction, but if I'm going to miss, I'd much rather miss like this. We are always rooting for good flicks and this one blew it out of the box. There were some critical legs to stand on as the first two films in the series had warm receptions. But this latest topped them both. Critics loved it for being both funny and socially relevant, never an easy pairing. I got killed in my prediction, but who cares? This one's a keeper.
Next time around we've got Keanu, Ratchet and Clank and Mother's Day. It's gonna be a Rotten Week!
Doug began writing for CinemaBlend back when Terminator: The Sarah Connor Chronicles actually existed. Since then he's been writing This Rotten Week, predicting RottenTomatoes scores for movies you don't even remember for the better part of a decade. He can be found re-watching The Office for the infinity time.
Your Daily Blend of Entertainment News
Thank you for signing up to CinemaBlend. You will receive a verification email shortly.
There was a problem. Please refresh the page and try again.