This Rotten Week: Predicting The Man from U.N.C.L.E, Straight Outta Compton and Underdogs Reviews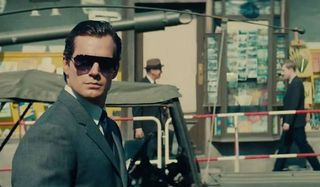 There's a definite feeling that the summer movie season is winding down. We are without a doubt in the decline… but it isn't all bad yet! We've got The Man from U.N.C.L.E., Straight Outta Compton and Underdogs arriving to screens near you.
Just remember, I'm not reviewing these movies, but rather predicting where they'll end up on the Tomatometer. Let's take a look at what This Rotten Week has to offer.
POSTER HERE, LINK IT TO PREVIEW PAGE
PREDICTION RATING HERE, LINK IT TO ROTTEN TOMATOES PAGE
Rotten Watch Prediction
Problem number one with The Man From U.N.C.L.E. and why critics will dislike it from the get-go: the name is needlessly difficult to type out. I was annoyed after the first go around. The caps? The periods? Ugh. Luckily I copy and pasted, but man what a pain. The rest of the flick looks just as difficult and needlessly stylized. So I guess it's appropriate.
Take a look at the trailer for The Man from U.N.C.L.E.:
Much like a spy over-adorned in some James Bond getup and posturizing as "playing the part," this flick looks like the filmmakers watched a bunch of old spy flicks and worked their asses off to "modernize" them or "amp it up." The effect doesn't appear a reimagining of an old classic or bringing a new spy caper to the big screen, but rather it appears as if they tried to cram every piece of the espionage movie genre into about two hours of film. Judging from the trailer, I'd be surprised if there was any room left for a story once they've cleared away the action sequences, one-liners, bad accents, shoot em up scenes and car chases.
I've been wrong about Guy Ritchie before. I remember having this distinct feeling about Sherlock Holmes (70%) thinking it looked much too over the top to ever rate anywhere with critics. That was an oops. But Ritchie's touch isn't exactly King Midas. He's got some middling, frenetic films like RocknRolla (59%) and Revolver (17%) that show the style from Snatch, etc isn't a total lock.
There are reasons to be concerned here. This flick was supposed to come out in January, but got pushed back to the summer. This is almost never a good thing. Additionally, the fact that there are no reviews out yet is almost always a sign of doom. While the names are big, as is the onscreen action, it looks like there's a decided lack of substance even in the three minute trailer (And you'd be surprised what good movies will pack into that time).
PREDICTION RATING HERE, LINK IT TO ROTTEN TOMATOES PAGE
Rotten Watch Prediction
Ah, the parental advisory sticker. The bane of one Mr. Doug Norrie's middle school years as I attempted to purchase the actual good music. But thanks to Tipper Gore and her cronies beefing with NWA, that damned label submarined music purchasing power for a whole generation of kids. And while I was a bit too young to plead for a copy of Straight Outta Compton (my particular early hankering was 2Pac's 2Pacalypse Now) and a copy of Appetite for Destruction that had been out for a while. I nonetheless was very much affected by just how far N.W.A. went with the lyrics and just how much folks were willing to backlash against them. But now it's all being packaged into a new movie, and what's more it looks pretty good.
See free speech on the warpath in the trailer for Straight Outta Compton
Based on the rise to fame and controversy surrounding N.W.A.'s early career, Straight Outta Compton details how Dr. Dre, Ice Cube, Eazy-E, MC Ren, Arabian Prince and DJ Yella came together to form one of the most influential rap outfits in history. That 33% of the group are still very influential now speaks volumes to just how much cred this group produced in a short time.
This movie is coming out at an interesting time in our country's narrative. With such a public debate raging about the role of police and it's dealings in major cities, it mirrors much of what surrounded the conversation when N.W.A. rose to fame. That one of their most famous songs is "Fuck tha Police", a track that became public enemy number one in the Parental Advisory Scheme's attack on the music industry, I'm sure rings true with many folks today. I'm avoiding being political here on purpose, but just commenting on the comparisons, one the film does not seem to shy away from. That the public debate then mirrors much of today's makes for an almost timely biopic, or as timely as a historical film can be.
Early reviews on Straight Outta Compton are strong though not necessarily glowing across the board. Critics seem to agree that the first half of the film plays out much stronger than the second half. That the group's formation and rise to fame, amidst the controversy of their lyrics plays out much better than the, as one critic puts it, "Behind the Music backstage melodrama" dragging down the second half.
I suspect though that the score will stay very much on the positive side even if much lower than its current 90%. Director F. Gary Gray has had some critical success, but has also done a much different kind of movie. Past work includes Law Abiding Citizen (27%), The Italian Job (76%) and Be Cool (30%) among others. His resume is all over the place making it hard to have total confidence. But he has some critical wins in there for sure. I think we see the score dip over the course of the week, but still remain strong and compelling.
PREDICTION RATING HERE, LINK IT TO ROTTEN TOMATOES PAGE
Rotten Watch Prediction
A couple of Christmases ago, my in-laws showed up with a giant foosball table for my then-budding man cave in the basement. I had big plans for that thing. Mainly: getting awesome at foosball so I could destroy friends who came over for a beer. Needless to say not only is that a dream of a complete and utter loser, but the table sat gathering dust for years and I eventually sold to it someone on Craigslist. So I can't really identify with Underdogs - and I don't imagine critics will be on the same level either.
See some real foosball players in the trailer for Underdogs below:
Ok, so bear with me here. But this flick actually came out in Argentina two years ago under the name Metegol. It was then released in the UK with the name The Unbeatables, and is now coming out in the U.S. as Underdogs. It tells the story of Jake, a young guy who's great at foosball but bad at just about everything else. A bunch of stuff happens and he's forced to play soccer against a bully/world class player who's come to take over the town. And then the foosball players come alive from one of Jake's tears and help him to win the big soccer game. Following?
The UK version received fine enough reviews and this American roll out includes a ton of big name voice over peeps. It looks cute enough without ever venturing close to the animated big boys like Pixar or DreamWorks. We aren't talking that league by any stretch. But cute enough for sure.
With some reviews in already trending positive, I don't think we need to stray too far from the current score. It won't make waves and will turn a buck or two at the box office. And then we will all forget about it. It's just that kind of movie.

This poll is no longer available.

Oof, let's get the disaster out of the way first with Fantastic Four (Predicted: 54% Actual: 9%). I was eviscerated in the comments section after for my write-up on this flick, and with good reason. I went way too high, and this was a major miss. What's interesting to note is that in my original write up I had the score much lower and voiced many more concerns about the flick. But then I pivoted after reading some comments and hedged upwards. This was a major mistake. I'm not writing it to say, "I was kind of right." The guess was wrong, and I was way off. But the reviews played out more what I thought after watching the trailer for the first time. It seemed disjointed and without a clear arc. That was the case and this thing was skewered by critics.
Meanwhile, The Gift (Predicted: 91% Actual: 92%) stayed right in range. I had some early reviews on this one that helped the prediction in a big way. There's almost no chance I'd have rated a "couple in peril" thriller in the 90's as we've seen how these flicks usually play out, and it's usually just the same exact beats along the way. But writer/director Joel Edgerton went a little different direction with The Gift, leaving viewers on their toes in respect to determining the actual villain. That's a nice twist and it helped keep the score high.
While correct in my general tone toward Ricki and the Flash (Predicted: 47% Actual: 59%), I missed by a few percentage points. The movie just looked so vanilla and without any real stakes regarding Streep's character. Most critics came in with some version of "It has tons of flaws, and yet I still liked it." This may stem from Streep herself being an actress who's easy to root for. It also may have held just enough emotion with a trickling of laughs to keep people engaged. But from reading the reviews this for sure feels like a low 60% if you know what I mean.
And finally, Shaun the Sheep (Predicted: 93% Actual: 99%) came in with a near perfect score. I'm always amazed with scores like this. Not because I see them as impossible, but because I'd love to talk to the one dude (out of 104) who didn't like the film. I'm no conformist, believe me. But when more than a hundred of your peers (a not insignificant sample size) love a film and you hate it, there might be something to that. Like maybe you should do something else.
Next time around we've got another packed week with American Ultra, Hitman: Agent 47, and Sinister 2. It's gonna be a Rotten Week!
Doug began writing for CinemaBlend back when Terminator: The Sarah Connor Chronicles actually existed. Since then he's been writing This Rotten Week, predicting RottenTomatoes scores for movies you don't even remember for the better part of a decade. He can be found re-watching The Office for the infinity time.
Your Daily Blend of Entertainment News
Thank you for signing up to CinemaBlend. You will receive a verification email shortly.
There was a problem. Please refresh the page and try again.