SXSW: Mark Millar Reveals Kick-Ass 2 Plans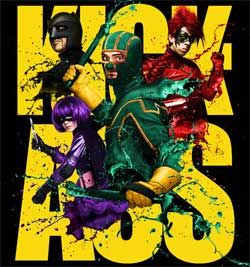 Mark Millar has been at SXSW promoting Kick-Ass and, as you'd expect, he's already kicking around ideas for Kick-Ass 2. Whether or not the movie's a hit the comic series continues and if Kick-Ass does well enough to warrant more, they'll take material for the sequel from the comics which Mark is working on right now.
His idea for the follow-up involves bringing in a new villain. Red Mist, whom you've seen in the trailers played by Christopher Mintz-Plasse, will remain Kick-Ass's central opponent and the current movie does a pretty good job of setting up Red Mist for a sequel. But Millar says he's like Joker to Kick-Ass's Batman, and their plan is to bring in another villain into the mix. As described by Miller, this new character sounds like kind of a badass. Actually, he's more of The Motherfucker. That's his name, or it's one of the names Mark is kicking around for the new character. His other choice is Cunt. Should he go with The Motherfucker, might I suggest casting Samuel L. Jackson?
Throwing the word "kick-ass" on posters and trailers is one thing, but it's pretty hard to imagine the MPAA letting them release a character poster with "The Motherfucker" written on it. But Kick-Ass director Matthew Vaughn seems pretty committed to running with whatever Millar comes up with. Should Kick-Ass make a ton of money, then look forward to The Motherfucker coming soon to a theater near you.
Your Daily Blend of Entertainment News
Thank you for signing up to CinemaBlend. You will receive a verification email shortly.
There was a problem. Please refresh the page and try again.