Sam Elliot Rides Into A New Western!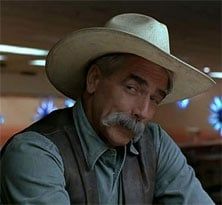 There's been a lot of talk lately about how 3:10 to Yuma has reenergized the Western genre, and that's great. Except it's been resurrected by a remake, which probably means more remakes of other Westerns in the future, rather than exciting new material. But you know, I'll happily put up with a remake of just about anything, since this Western resurgence means the great Sam Elliot is back in the saddle.
Moviehole says Elliot has been tapped to star in a new Western called Jessie's Girl. The movie is about Jesse James' illegitimate daughter, and follows her as she takes up the mantle of her famous outlaw father. The confusing thing here is that in the film's title "Jesse" is spelled with an "ie", which is normally how you spell the name for a girl and not the way you spell the name of the notorious outlaw. Not sure what that means, maybe just a misfire by someone's spellcheck?
Whatever they're calling it, Sam Elliot is in a Western and that's good cause for a big hell yeah! No word on exactly who Elliot will play in the film. Does Frank James figure into it? I could see him as Jesse's surviving older brother. It doesn't matter, as long as Elliot gets to growl and wear a cowboy hat, all is right with the world. He hasn't been in a real Western since the little seen 1998 movie The Hi-Lo Country, though he has been playing a steady string of cowboy and cowboy knockoffs in movies like Ghost Rider and The Big Lebowski. He's probably best remembered for his place in Tombstone as Virgil Earp, the straight shooting elder brother of Kurt Russell's Wyatt Earp.
Your Daily Blend of Entertainment News
Thank you for signing up to CinemaBlend. You will receive a verification email shortly.
There was a problem. Please refresh the page and try again.