Sarah Jessica Parker Edited Out Of Lovelace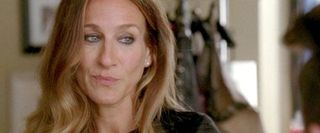 It was nearly a year ago that Sarah Jessica Parker was brought in as a last minute replacement for Demi Moore on the in-production Lovelace. The biopic that was intended to cover the highs and lows of Deep Throat star Linda Lovelace's life was in need of an older actress to play feminist icon Gloria Steinem, and Parker proved a saving grace to the feature's helmers Rob Epstein and Jeffrey Friedman by stepping in on such short notice. But as the film preps for its premiere at the Sundance Film Festival, the directing duo confesses Parker's contribution to the picture has been cut completely.
Talking to EW, Epstein and Freidman, who went from documentaries to narrative film with the 2010 docudrama Howl, said they were so appreciative about Parker's willingness to join Lovelace in mid-production that it made it even harder to deliver the bad news about her being edited out of the film. "But she was a pro," Epstein offers.
But why was she cut?
Well, the screenplay penned by Andy Bellin spanned from a time before Lovelace's breakthrough in the 1972 porn landmark Deep Throat through 1984, when the former porn star rejected her past and became an advocate calling for the end of pornography. It was towards the end of this arc that she met Steinem. But this section, which was originally intended as the film's coda, has since been chopped. Now Lovelace ends around 1980, a time when Lovelace—now going by her birth name Linda Boreman—had published an expose memoir called Ordeal, which declared she was pressured into porn by her abusive ex-husband Chuck Traynor.
At this time, Epstein and Freidman won't comment on whether or not the cut coda will make it on to an eventual DVD release. Lovelace will be seeking distributors at Sundance, and will make its premiere on Tuesday, January 22nd.
Staff writer at CinemaBlend.
Your Daily Blend of Entertainment News
Thank you for signing up to CinemaBlend. You will receive a verification email shortly.
There was a problem. Please refresh the page and try again.