Sarah Michelle Gellar Would Be Up For Buffy Movie, But Says The Original Didn't Work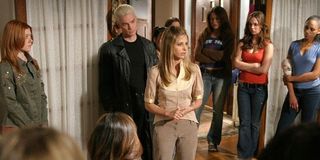 Seven seasons and a movie? Technically, Buffy the Vampire Slayer's already had that, only the movie came first. But what are the odds that the series will see a follow-up film, much in the way Joss Whedon's Firefly did with Serenity? Given the recent Kickstarter success for the Veronica Mars movie, fans of other beloved TV shows have been hopeful that their favorite gone-but-not-forgotten TV dramas will be revived on the big screen. As E!'s Kristin Dos Santos points out, Buffy would surely be at the top of that list. And it's probably true. Whedon's kick-ass TV drama is just as beloved now as it was a decade ago when it was just wrapping up its final season. Maybe more so, when we factor in those of us who got on board with the show after it ended. The Buffy story has continued in comic book form, but how great would it be if it returned to the big screen?
Unfortunately, it doesn't sound like plans are in the works. While Gellar did sound open-minded to the idea when addressing the topic while promoting her upcoming CBS series The Crazy Ones, it sounds like story is key. Gellar says she and Joss do talk about a possible Buffy movie, "But the thing with Buffy is that Buffy was a movie, and it ultimately didn't work as a film. And I mean, we had such miles to overcome when we were trying to do a TV show based on a movie. And one of the reasons is that the story works better over time."
She's not wrong there. Ok, I admit, I like the original Buffy film. I liked it when it came out and I still like it. But I wouldn't argue that the show wasn't far superior to the film on which it was based, nor would I argue that Gellar's wrong to say that the story works better over time. The first season of Buffy the Vampire Slayer feels more like a warm-up to what the series eventually went on to be. The same can be said for Angel and probably would have been said for Firefly and Dollhouse. Could a Buffy movie work without time for the story and the characters to be developed all over again? Who knows, but from what Gellar says, it sounds like concern over having the right story is a big issue. "If there was ever the right story to tell, we would certainly do it," Gellar told E! "I think there's a great fear in that rightfully so."
Finding the right story seems like a reasonable excuse not to plow forward with a movie. The same can be said for the idea of a Buffy movie done without Joss Whedon or the original cast, which seems preposterous, but isn't entirely out of the question. Ideally, a Buffy movie would have all of the core ingredients, including Joss, Gellar and any surviving characters - or un-surviving ones that might be salvageable through whatever supernatural means necessary - and, of course, a good story. If Buffy the Vampire Slayer comes back as a movie, there should be a reason beyond demand. So as much as I wish we could've heard more optimism (or set plans) from Gellar about a Buffy movie, I think her head's in the right place on the subject.
On the more optimistic side, by comparison to some TV shows that were or are poised for movie followups Buffy shouldn't be especially high on the list in terms of movies that serve as necessary conclusions to shows that left us hanging. The series wrapped up nicely after a seven-season run. It wasn't a show like Firefly or Veronica Mars that was cancelled way ahead of its time and left off unfinished. So, as much as I'd love to see the Scoobies back together again, even if Gellar really is using Mr. Pointy as a cane by the time it happens, I'm content with how the show ended enough that I don't think there should be any rush to get the movie made. Of course, if they were to announce that Joss was penning the script for a Buffy movie right now, I'd be singing a much different tune.
Every single night, the same arrangement. I go out and fight the fight…
Assistant Managing Editor
Kelly joined CinemaBlend as a freelance TV news writer in 2006 and went on to serve as the site's TV Editor before moving over to other roles on the site. At present, she's an Assistant Managing Editor who spends much of her time brainstorming and editing feature content on the site.
Your Daily Blend of Entertainment News
Thank you for signing up to CinemaBlend. You will receive a verification email shortly.
There was a problem. Please refresh the page and try again.