Sarah Silverman Filming Nude Scenes For Take This Waltz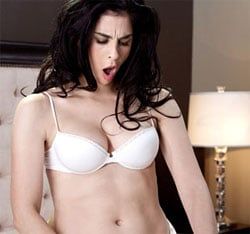 Sarah Polley is as a director, known for female-centric indie movies about women, and her next movie Take this Waltz fits into this mold… except without the usual independent movie cast. Michelle Williams is the movie's lead, and indie movies are her cup of tea, but also in the cast are Seth Rogen and comedienne Sarah Silverman. Not exactly your arthouse theater typicals. But apparently Polley's put her indie cred to good use on Sarah Silverman, and has her talked not only into doing indie movies, but into getting naked in the name of art as well.
Talking to Moviefone Silverman recently revealed that Take this Waltz will play host to her first nude scene, which she doesn't think you'll enjoy at all. She says, "I go totally naked… Full frontal. It's going to be awful. It's so not pretty." So why'd she decide to do it? Sarah explains, "Sarah Polley is so f--king cool. So kind. She knows exactly what she wants, she knows how to get it."
Take this Waltz is a dramedy, which explains the strange mix of Michelle Williams seriousness and Seth Rogen/Sarah Silverman hilarity. Williams plays a woman forced to choose between two kinds of love and Sarah, well here's how our own Katey Rich explained the part she believes Silverman will get when she took a look at the movie's script a couple of months ago:
Yep, that sounds like a Sarah Silverman nude scene in the making to me.
Your Daily Blend of Entertainment News
Thank you for signing up to CinemaBlend. You will receive a verification email shortly.
There was a problem. Please refresh the page and try again.