Scott Rudin Is The Latest Person To EGOT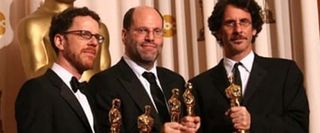 30 Rock's Tracy Jordan most recently made famous the concept of the EGOT, but it's a quadruple-accomplishment in the entertainment industry that's been around since 1962, when composer Richard Rodgers became the first person to win an Emmy, a Grammy, an Oscar and a Tony. It's been 10 years since last member of the club, Whoopi Goldberg, was inducted, but now we can add another very important name to the list: Scott Rudin.
The mega-producer behind No Country For Old Men and most recently Extremely Loud & Incredibly Close and The Girl with the Dragon Tattoo, Rudin took home a Grammy last night as the producer of The Book of Mormon, which won Best Musical Theater Album. That show also won a boatload of Tonys, but Rudin's Tony wins stretch back to 1994's Passion-- apparently only producing movie megahits just isn't enough for the guy. His Oscar win came thanks to No Country for Old Men in 2007, and his Emmy came all the way back in 1984, for his work on the children's program He Makes Me Feel Like Dancing. (If that Emmy isn't prestigious enough for you, he's bound to get one when the TV miniseries version of The Corrections comes to HBO eventually).
The Grammy is always the place where EGOT winners seem to sneak in with completely unlikely wins-- Whoopi Goldberg got one for producing the Broadway musical Thoroughly Modern Millie in 1985, and Audrey Hepburn got hers for narrating a children's audiobook-- so I won't hold this odd form of victory against Rudin's accomplishment. Now if he walks around sporting the EGOT necklace that Tracy Jordan owns, then I'll really be proud of him.
Your Daily Blend of Entertainment News
Staff Writer at CinemaBlend