See Maz Kanata In Action In Latest Star Wars: The Force Awakens Footage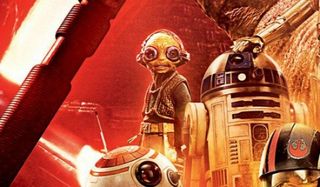 While the status of Luke Skywalker has been far and away the most mysterious element to Star Wars: The Force Awakens' promotional campaign, close behind him has been Lupita Nyong'o's performance as the diminutive extra-terrestrial Maz Kanata. Information regarding the Oscar-winning actress' performance in The Force Awakens is still at a premium, but we got our very first look at her in action in the latest trailer for the seventh installment to the franchise. You can see her appearance at about 15 seconds into the clip below.
Interestingly enough, Nyong'o's character kind of looks like an Oompa Loompa that's about to go on a pod-racing joy ride. Obviously I mean that in the nicest way possible, as this sort of wild character design is what Star Wars is known for. My fingers are crossed that in the above scene we will get to see Maz Kanata in battle against the same bevy of Stormtroopers that Finn finds himself up against. It's likely, as we've already seen several snippets from that scene in the recent avalanche of trailers for The Force Awakens, and all signs point to the possibility that Maz Kanata will be in the thick of things when the going gets tough.
Obviously there's not much to dissect from the milliseconds worth of footage that features Maz Kanata, other than the fact that she looks rather excited at the sight of John Boyega's Finn withdrawing his lightsaber for battle. Of course, that's just an opinion as it's hard to tell with such a short glimpse. She could be scared and just choose to show it with that same look of a gasp. You can decide for yourself, as we've freeze-framed that moment for you below.
It's truly great to finally have some moving footage of Lupita Nyong'o's character, so that we can now put a face to the name. All that we'd been previously seen regarding Maz Kanata's appearance was her tiny appearance on the poster for Star Wars: The Force Awakens. And while we were grateful for that, considering the secrecy that had previously gone into Nyong'o's performance-capturing antics during filming, it's even better to see her on-screen.
The current background information that we have on Maz Kanata is that she is a pirate who has lived for over a thousand years. Through those many years, she's owned a bar that is on the planet of Takodana, which is a watering hole for a whole host of cretins and villains from across the galaxy. This is all starting to sound extremely familiar, but since she owns this establishment it's safe to assume that she knows how to handle aggressive drunkards in a physical manner.
It also helps that Lupita Nyong'o's character has eyes that reportedly hold a special power that has been linked to the Force. In order to keep this power in check she has to wear goggles at all times. I'm going to guess that they'll be whipped off at some point in Star Wars: The Force Awakens, which is now tantalizingly just over one week away from release.
Your Daily Blend of Entertainment News
Thank you for signing up to CinemaBlend. You will receive a verification email shortly.
There was a problem. Please refresh the page and try again.