See What Tom Felton Wore To Prank His Harry Potter Co-Star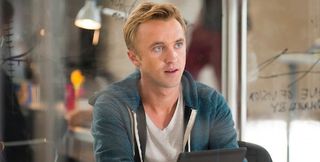 It's not uncommon to hear about actors pulling pranks on one another on movie sets. But it's been years since the last Harry Potter film hit theaters and it sounds like stars Tom Felton and Rupert Grint still aren't ready to abandon the pastime. Rupert Grint, who played Ron Weasley in all eight of the Harry Potter films, is currently starring in a play on Broadway, and his former screen rival Tom Felton (aka Draco Malfoy) decided to show up at the stage door of the theater looking like, well, this...
He was reportedly there to play a prank on Rupert Grint.
As The Post's Page Six notes, Rupert Grint is currently starring in the Broadway play It's Only a Play, alongside Matthew Broderick, Nathan Lane and Stockard Channing. From what the site reports, it sounds like Grint is the most popular of those stars, at least among the fans who linger out by the stage door in the hopes of getting an autograph, a selfie or at the very least, a peek at stars.
As you can see in the above photo, Tom Felton was among them recently, disguised in a wig, hat and plaid jacket, which may have been at least partially an effort not to be spotted by the Harry Potter fans who'd likely be thrilled to run into Draco Malfoy while waiting to see the actor who played the youngest male of the Weasley clan.
The Post's article credits an unspecified "pal" as confirming that Felton was there to prank Grint. This isn't the first time Rupert Grint and Tom Felton have messed with one another off set. When Rise of the Planet of the Apes opened, Rupert Grint reportedly met Tom Felton on the red carpet wearing an "I Heart Tom Felton" shirt (Photo here).
So it seems they're both up for playing jokes on one another, particularly in public. And it sounds like it's all in good fun, which would be a contrast from the relationship their characters had with one another in Harry Potter.
As for what these Harry Potter stars have been up to these days, besides pranking one another, Rupert Grint is obviously keeping busy on the stage, and his recent screen credits include a role in CBGB. Meanwhile, we've seen a bit more of Tom Felton on the small screen, as his credits include a part in the miniseries Labyrinth and a dark role in the first season of TNT's crime drama Murder in the First.