Video Interview: Tom Felton On Growing Up As Draco Malfoy In The Harry Potter Universe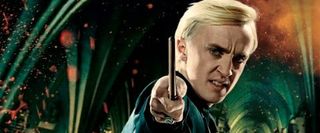 After serving as the snot-nosed villain throughout much of the Harry Potter story, Draco Malfoy finally got a little bit of redemption in the sixth film, unable to murder Dumbledore as Voldemort commanded him and fleeing instead. In Harry Potter and the Deathly Hallows Part 2 he's still an obnoxious prig, believe me, but one who's developed a soul over the last few years, and as played by Tom Felton you only have to look in his eyes at key moments to know he doesn't have the evil mettle required to be one of the Death Eaters fighting on Voldemort's side. Along with all the other kid actors in the Harry Potter films, Felton has grown immensely as an actor over the course of the last ten years, developing his emotional range in time with the development of his character onscreen.
It's just in time, too, as Felton has signed on a slew of other projects now that Potter has wrapped, including a role in this summer's Rise of the Planet of the Apes. I caught up with him in the middle of a whirlwind publicity tour for the latest movie to talk about developing Draco as a character, when he learned his character was more than just a bad guy, watching his 11-year-old self on the screen, and what it's been like to ditch Draco's signature platinum blond hair. He also explained why it wasn't Crabbe and Goyle, but Crabbe and Blaise Zabini, who went with Draco into the Room of Requirement in one key scene. It's a short 8 minute interview, and you can watch it all happen below.
Your Daily Blend of Entertainment News
Staff Writer at CinemaBlend