Seth Rogen, Joseph Gordon-Levitt Christmas Comedy Gets A Release Date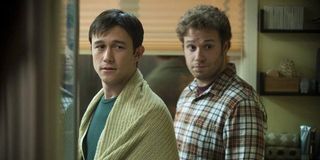 Tis the season to spend it with Seth Rogen and Joseph Gordon-Levitt. The two had teamed for a Christmas-themed film for Sony, which was being eyed as a potential hit for the colder months. It should be no surprise, ultimately, that the project has received a tidy, warm holiday release date.
The untitled film, which will be directed by Jonathan Levine, will land on December 11th, 2015. The picture features Rogen (who'll soon be seen in Neighbors and The Interview), Levitt (who will pop up in Sin City: A Dame To Kill For) and a third friend for a night on the town on Christmas Eve, an annual tradition that likely involves a bit of bad behavior. Or maybe the three volunteer at soup kitchens, go to church and visit an orphanage. No details have been released yet, so you can only guess for now.
This release date pits this probably R-rated comedy against one other film thus far, Alvin And The Chipmunks 4. Yes, that is the fourth installment in a billion dollar franchise, you are not dreaming. December '15 is getting crowded, as the following week has not only Star Wars but also the latest Dan Brown adaptation Inferno, though we haven't heard ANYTHING about that lately. And speaking of unasked-for sequels, the 23rd sees the release of Kung Fu Panda 3, saturating a kiddie market and likely making the Rogen/Levitt film the best deal in town for an adult. Christmas Day, meanwhile, sees Ben Affleck's Live By Night throw down with Mission: Impossible 5, though being that it's Christmas, expect a dozen more releases to be announced for that date over the next year and a half.
Levine is an interesting director, one who cut his teeth in the indie world and has slowly been transitioning to the studios. His debut All The Boys Love Mandy Lane sat on the shelf for years, but follow-up The Wackness had a certain unforced affection for early 90's New York City. He was also the man behind zombie comedy Warm Bodies, a gig that landed him on every studio shortlist even though it ended up being a bit more modest than the franchise-starter Summit expected. He's also got a working rapport with Rogen and Levitt. The two starred in his 50/50, where Levitt played a cancer patient and Rogen his best friend. Though it sounds like a tough sit, Levine managed to craft a sincere, sensitive and funny movie out of the material. Check it out below.
Your Daily Blend of Entertainment News