Upcoming Vince Vaughn Movies And Shows: What's Ahead For The Freaky Star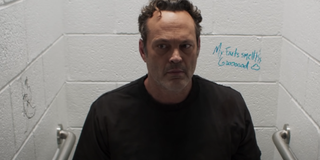 In October 2020, we saw Vince Vaughn like we never saw him before in Freaky, the cheekily clever genre mash-up of Freaky Friday and Friday the 13th that allowed the comedy superstar to get in touch with his feminine side. Not only was it different than anything we've seen the actor do in the past, but it might very well be one of his best performances. It's also another sign that Vaughn is stretching his skills as an actor.
While he's often typecast into playing motormouthed hustlers who try to talk their way in or out of anything (and seemingly everything), Vince Vaughn has proven his talents to be more varied than some give him credit. Of late, he's been playing a variety of characters in films like Brawl in Cell Block 99 and Arkansas that showcase an actor willing to extend his reach. It's hard to know if this is just an adventurous period for the actor or if this is the new norm for Vaughn, but he has some new movies and shows on the horizon, both comedic and otherwise, that should showcase his displayed range.
If you love the Swingers star, here are the upcoming Vince Vaughn movies and shows worth keeping an eye on.
North Hollywood - TBA 2021 (Post-Production)
With a logline that amusingly calls itself "the first-ever movie about becoming a pro skater," North Hollywood is — right from the get-go — introducing itself as a winking, light-hearted, self-aware coming-of-age story. Written and directed by Mikey Alfred, who produced Jonah Hill's Mid90s, North Hollywood has a cast filled with newcomers and famous faces alike, including Nico Hiraga (Moxie), Miranda Cosgrove, Blake Anderson, and Vince Vaughn. Details remain limited otherwise, but the movie made its premiere in late March, which means that it should be out later in 2021. Especially since it comes from producer Pharrell Williams, it's only a matter of time before it finds a distributor.
Certainly, the trailer for North Hollywood has a tone reminiscent of the aforementioned Mid90s, which should make it appealing to movie lovers who enjoyed Jonah Hill's impressive first outing as a writer-director. Admittedly, coming-of-age movies based in sunny LA are a dime a dozen these days, but North Hollywood will hopefully make a good impression — especially with its high-profile cast.
Queenpins - TBA 2021 (Post-Production)
Inspired by the true story of what's considered the largest coupon counterfeit scam in U.S. history (if there's any competition in that field), as Variety reported, Queenpins sounds like an entertaining mix of true crime and suburban drama with a dash of dark comedy, which should hopefully result in a fun and inspired twist on this (otherwise familiar) type of rise-and-fall domestic crime story,
Starring Kristen Bell as a fed-up housewife who took control in her life by starting an illegal coupon club, which resulted in $40 million in scams from big food companies, this STX Film title has a strong supporting cast, including Vince Vaughn, Kirby Howell-Baptiste, Paul Walter Hauser, Joel McHale, Paul Rust, and Nick Cassavetes, which should keep it exciting. From writing-directing partners Aron Gaudet and Gita Pullapilly, Queenpins is currently in post-production and it's expected to come out later in 2021. We should expect to hear more about this intriguing new dramedy in the months ahead.
The Last Drop - TBA (Pre-Production)
Paired alongside Catastrophe's Sharon Horgan, The Last Drop could be an interesting role for Vince Vaughn, particularly as the actor continues to flex his comedic and dramatic range. In this upcoming film, the actor will play Clay Mason, a charming, hard-partying culinary show host who reaches a tipping point in his life and career. Due to his carefree lifestyle, his career starts to unwind. During a turbulent period, Clay crosses paths with Holly (Horgan), a spirited antique dealer who sees through Clay's bon vivant personality and helps him find the strength he needs to bring his life out of a tailspin.
A character-driven romantic dramedy that's set to be produced by Shawn Levy and Dan Levine (Arrival), directed by Christopher Storer (Remy), and written by Brandon Murphy, Phillip Murphy, and Elizabeth Chomko (What They Had), The Last Drop will require a specific performance from Vaughn, and the producers believe the experimenting actor has the goods to pull it off, especially at this point in his career.
As the producers said in a joint statement (via Variety), The Last Drop requires a lead actor who can bring a "nuanced performance" as someone who is "both incredibly charming and seriously flawed." Shawn Levy, Dan Levine, and Dan Cohen note that Vince Vaughn can "be exceptionally funny while at the same time highly affecting," which makes him "perfectly cast" in this role. Only time will tell regarding Vaughn's performance, but it sounds like the type of character that plays to his charm and his understated dramatic talents. But when we'll get a chance to see it remains uncertain.
The last updates for The Last Drop were in 2019, so it might have stalled. If it comes together, though, this new movie could be a promising new step for the Swingers star.
Untitled Netflix Action-Adventure Movie - TBA (Announced)
Written by Workaholics' Anders Holm, this new project, which will apparently be a cross between City Slickers and Old School, is still being kept under wraps, but if it's as action-intensive as Deadline suggests, it could be another opportunity for Vaughn to expand his genre reach and demonstrate his hard-working talents. It should be noted, though, that this developing project was first announced in 2019, and there haven't been any updates since 2019.
In recent years, Vince Vaughn has only continued to branch out of his comfortable comedy zone and explored his (admittedly undervalued) range as an actor. Notably with his lead roles in the action-crime dramas like Brawl in Cell Block 99 and Dragged Across Concrete, his villainous turns in Arkansas and True Detective Season 3, and his dramatic supporting performance in Seberg, Vaughn has experimented with his darker side and pushed away from the conventional comedies that defined his career.
For the actor's fans, it's intriguing to see the performer stretch himself and expand his depths as a star, particularly as his physicality is also explored in different projects, notably last year's Freaky. So, when it comes to his involvement in Netflix's upcoming action-adventure (which is currently untitled), it'll be interesting to see if this is a return to the type of fast-talking roles that defined Vaughn's career or another intriguing detour.
One can presume that Netflix's upcoming action-adventure ensemble comedy will be closer to what fans expect from Vince Vaughn as a movie star. With that said, it'll be interesting to see how the actor's recent changes shape this upcoming performance. It could also showcase another new direction in Vaughn's career.
Wedding Crashers 2? - TBA (Speculated)
15 years ago, Wedding Crashers sneaked its way into theaters and became a massive hit for everyone involved, especially Vince Vaughn. Following its buzzy release, the R-rated raunchy buddy comedy became one of the most well-known titles on Vaughn's varied resume. Paired alongside Owen Wilson, who bounced well off Vaughn's rambunctious verbal energy, the two leading men spawned one of the most quoted comedies of the mid-'00s, which begs the question, "When are we getting a sequel?"
Especially now when decades-later continuations (comedy or otherwise) are becoming fashionable, one has to wonder if Wedding Crashers 2 is the next sequel made twenty years later (if you can believe it). It hasn't been greenlighted (yet), but years back, Isla Fisher claimed that she has discussed a possible Wedding Crashers 2 with Vince Vaughn.
In 2016, during the promotional circuits for Nocturnal Animals, Isla Fisher said that Vince Vaughn bumped into her at a party and told her that Wedding Crashers 2 was happening. Granted, that's far from official, and Vaughn was speaking informally, but it confirms one thing: sequel talk was, at some point, happening— if not under the most serious circumstances. Admittedly, in today's different comedy era, it's hard to know how Wedding Crashers 2 would fly, which might explain why this project hasn't picked up traction. That said, Vaughn provided an update in 2020 that should get fans excited.
During the press rounds for Freaky, Vaughn confessed that director David Dobkin has "a really good" and "contemporary" idea for this possible sequel. The actor admits that he didn't make follow-ups to his past successful comedies because he didn't want to chase their success, but he believes there's potential in bringing back these beloved characters. Of course, only time will tell. Would it be more sad or funny (or even disturbing) to see these party-loving characters up to their old tricks after two decades?
Producing: Oaklandia - TBA (Announced)
In addition to his upcoming acting credits, Vince Vaughn is a producer on Oaklandia, an adult animated comedy from voice actor/executive producer Snoop Dogg. In development at Amazon, the pilot is written by Daniel Dominguez (Gen: Lock) and Chris "Comedian CP" Powell (Ole Bud's Anu Football Weekly), but not much else is known otherwise. The project was announced in November 2020, as Deadline reported, so we'll have to keep on the lookout. Right now, it's unclear if Vaughn is solely producing or if he'll lend his voice to the project as well, as he did with Netflix's F is for Family, but if Oaklandia is being fast-tracked, we should have a better idea of what's in store soon.
Additionally, it's worth noting that Vince Vaughn is currently attached to produce the action-thriller The Risk Agent and the comedy The Insane Laws, but neither has seen any updates since 2017. One can reasonably assume, therefore, that they're currently not in active development. But never say never in Tinseltown. If anything changes, we'll be sure to keep you posted right here at CinemaBlend.
This poll is no longer available.
Will is an entertainment writer based in Pittsburgh, PA. His writing can also be found in The Playlist, Cut Print Film, We Got This Covered, The Young Folks, Slate and other outlets. He also co-hosts the weekly film/TV podcast Cinemaholics with Jon Negroni and he likes to think he's a professional Garfield enthusiast.
Your Daily Blend of Entertainment News
Thank you for signing up to CinemaBlend. You will receive a verification email shortly.
There was a problem. Please refresh the page and try again.