Sharon Stone Will Be Helping Out A Prostitute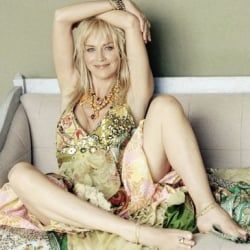 Sharon Stone might be more famous for being sexually provacative than any other actress her age-- except Courtney Love, maybe, but we're not talking about her here. Sharon Stone is the woman who crossed her legs in Basic Instinct, and even at the age of 51 continues to be an icon of powerful, somewhat terrifying female sexuality.
But when I tell you that she's going to star in a movie about prostitution, hold your horses. Stone won't be playing the prostitute in question. She told Pretige, a Hong Kong magazine, that her next project will be Satisfaction, about a young male prostitute (played by Chris Evans) who loses the support of one older woman (Carice van Houten) and winds up with another (Stone).
In Stone's words:
Evans may have a great role coming up in Scott Pilgrim vs. the World, but he could really use another good one, and this at least sounds promising. That unless, unless we're heading into Basic Instinct 2 territory, in which case everyone ought to stay far, far away.
Your Daily Blend of Entertainment News
Staff Writer at CinemaBlend