Sherlock Holmes Reboot Still On Track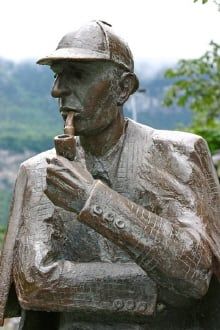 Oh what a difference a year makes. Last March we noted that there was a movie being planned of Lionel Wigram's not-out-yet comic book "Sherlock Holmes." Michael Johnson had written the script and Neil Marshall (The Descent) was going to direct. That's all changed now. Other than the comic book not being out, that's still the same.
Variety reports that Guy Ritchie, who is famous for making all those Guy Ritchie-ish gangster pictures (and for being fooled into thinking his wife could act) is now going to direct. He will also re-write a script by Tony Peckham, so it looks like both Johnson and Marshall are out. Nothing has been cast and we shouldn't start scanning the Entertainment section of our local paper about this until 2010.
The movie will still be a "reboot" of the Holmes character, with the focus more on his adventuresome traits and physical abilities. Sort of like Old Young Sherlock Holmes. I'm not sure how I feel about that. While Holmes is a well filmed character, I can't think of a good recent movie about him, and by "recent" I'm willing to go back a few decades. I think there are some good television versions, but it might be time for a new Holmes, to help us all forget about Katie.
Your Daily Blend of Entertainment News
Thank you for signing up to CinemaBlend. You will receive a verification email shortly.
There was a problem. Please refresh the page and try again.