Should Anne Hathaway's Catwoman Get Her Own Movie?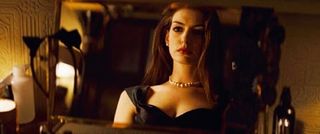 I saw The Dark Knight Rises last night, and despite some pretty troublesome flaws in it (read more in my review if you like), a lot of really great things stood out-- and maybe none greater than Anne Hathaway's portrayal of Selina Kyle, a.k.a. Catwoman. As a sassy, slinky but oddly realistic cat burglar, Hathaway's Kyle is an odd but instantly endearing antagonist for Bruce Wayne--though as you might remember from the comics or the earlier movies, their relationship is a little more complex than that. The Dark Knight Rises can't focus entirely on her, of course-- there's Bane out there to deal with-- but you constantly find yourself wanting to see more of her, and according to Christopher Nolan, that's kind of the point.
""She's an incredible character and we're very excited to see her and hopefully we'll leave people wanting more," Nolan told Access Hollywood, adding that Hathaway is "incredibly precise and articulate about the psychology of the character." And while he reiterated, as he has over and over again for months, that he's done telling stories in Gotham City, he suggested that Hathaway's spin on Catwoman might be able to find another story under someone else's hand: "I certainly think she deserves it, she's incredible."
What I'd really like to see is Nolan making more movies set in Gotham, a fictional city he's brought to incredible life over the three Batman movies-- the movies wouldn't be about Batman, but about other people living there, and maybe even Selina Kyle. Yes, I know the logistics of character rights and franchises make this impossible, but let me dream! At the very least, while Warner Bros. figures out how to reboot Batman in a post-Nolan world, it would be fun to see Nolan and Hathaway team up for a Catwoman movie, maybe something small and dirty that just lets her kick dudes with her stilettos and quip about their pain before jumping out a window. Tell me you wouldn't want to see that!
Your Daily Blend of Entertainment News
Staff Writer at CinemaBlend
Your Daily Blend of Entertainment News
Thank you for signing up to CinemaBlend. You will receive a verification email shortly.
There was a problem. Please refresh the page and try again.