Simon Cowell Is Making A Beatles Movie, Get The Details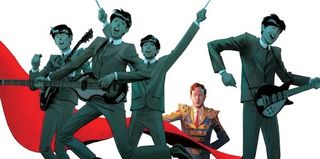 The Beatles are one of the most famous musical act in rock and roll history. You could make a case for the Rolling Stones or Elvis, but you'd probably just wind up arguing in circles. Well now a new movie about the Fab Four is in the works, and Simon Cowell is the driving force behind the film.
According to The Hollywood Reporter, The X-Factor and American Idol judge and producer, along with his Syco Productions, is working on an adaptation of the graphic novel The Fifth Beatle. Written by Vivek J. Tiwary, who also penned the screenplay, the story revolves around Brian Epstein, the Beatles longtime friend, business partner, and manager. Cowell says:
Epstein played such a major role in the group's phenomenal worldwide success that he is often referred to as the "fifth Beatle," a nickname coined by Paul McCartney. The new movie follows him and the band from their humble beginnings playing tiny Liverpool dives and nightclubs, like the now iconic Cavern Club, to becoming one of the most influential and celebrated musical acts of all time.
Epstein's story is one of struggle and triumph and tragedy that extends far beyond just the world of music. Liverpool at the time was essentially the "wrong side of the tracks," so this is a tale of fighting to escape from the clutches of poverty. He was also Jewish during time of widespread anti-Semitism, homosexual when being gay in the United Kingdom was still a felony, a heavy drug user, and a well-known hardcore gambler. And he also died tragically young of an overdose at the age of 32 in 1967, shortly after the Beatles finished recording Sergeant Pepper's Lonely Hearts Club Band.
While it sounds like The Fifth Beatle will focus more on Epstein than the actual group, the two entities are so intertwined, especially in the early days, that it is damn near impossible to tell one story without the other. So don't worry, there is also going to be plenty of John, Paul, George, and Ringo to go around and sate hungry fans.
If you're worried that this is going to be one of those biopics about musicians where they couldn't secure the rights to any of their music and thus you never hear the songs you love so much (see Jimi: All Is By My Side), there's good news. The producers have already secured the rights to use Beatles' songs in the picture, so that familiar element, which will go a long way towards selling this story, will be front and center in The Fifth Beatle.
Your Daily Blend of Entertainment News