Sinister Six And The Amazing Spider-Man 3 Announce Release Dates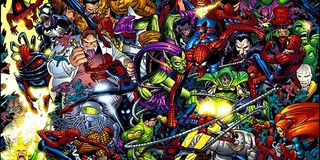 The great Spider-Man experiment continues! Sony isn't going to go down swinging in regards to the under-performance of The Amazing Spider-Man 2. Nope, they're reloading and diversifying, re-writing their entire release schedule to spotlight The Sinister Six. Thank you for reading CinemaBlend, Sony. Your gift bag is in the mail.
Via Deadline, Sony has announced that The Amazing Spider-Man 3 has fled 2016, giving way to The Sinister Six, which will bow on November 11th, 2016. Following the villain team-up, The Amazing Spider-Man 3 will debut in 2018 – no date is specified, though it will probably occupy the May 4th, 2018 slot reserved for The Amazing Spider-Man 4, which will... vanish out of thin air, apparently. Clearly, Sony's original wishes for a Spider-Man movie every year will not come to fruition.
What this means is that, with Sinister Six taking the place of a Spider-Man movie, it's likely going to BECOME a Spider-Man movie, with Andrew Garfield returning to star, and the spotlight on him as he battles an unstoppable six-pronged threat. Unless they hold to the suggestion that the film is entirely about the baddies, existing in a "separate universe" than The Amazing Spider-Man, with the wall-crawler just off-screen somewhere. That would mean Sony was giving the public a four year break from Garfield's Peter Parker. Unlikely, but not impossible. It also means we're considerably far from Venom, though Sony has been hot on the character for a long time – it wouldn't be a surprise if that character is introduced in The Amazing Spider-Man 3, though they'd be hilariously testing fate if they once again introduced an underdeveloped Venom in a third Spider-Man film. It would be like if Chris Nolan came out of retirement to make a movie where Christian Bale's Batman fights Poison Ivy and Mr. Freeze. So yeah, it might be a little awesome, actually.
The June 10th, 2016 date originally occupied by The Amazing Spider-Man 3 now goes to Uncharted, the video game adaptation directed by Seth Gordon (Horrible Bosses). Reports are Mark Wahlberg is being sought for the lead, though his reps deny it for now, so it could be very early in negotiations. A bit unusual Sony is moving Spidey out of the summer – Thor: The Dark World proved there's superhero money to be made in the fourth quarter, but all five Spider-Man films have been in warm weather. But that just lends even more credence to the possibility that The Sinister Six will be entirely Spider-less.
So let the speculation begin. It's likely we've seen three of the Sinister Six thus far, in Dane DeHaan's mutated Green Goblin, Paul Giamatti's Rhino and Felicity Jones' Black Cat. Could we see a new Doctor Octopus? Might the movie bring us Kraven? Have we really seen the last of Chris Cooper's Norman Osborn? Isn't the Lizard still out there? The answers are out there.
Your Daily Blend of Entertainment News