Will Smith and Noomi Rapace To Front Sci-Fi Thriller Brilliance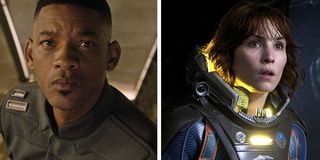 Between his Men in Black and her Prometheus, Will Smith and Noomi Rapace could understandably be called modern icons of science fiction. Now they are teaming up for a sci-fi thriller. And surprise surprise, it will not feature either battling hostile aliens.
Variety reports that Will Smith and Noomi Rapace have officially signed on to co-star in Brilliance, which is being helmed by Nigerian director Julius Onah. Legendary Pictures is producing the thriller based on the novel from Marcus Sakey's emerging trilogy. The second book in this series is set to hit stores later this year, and if Brilliance shines at the box office we can assume sequels--for which its stars are likely already contracted--will follow.
Here's the novel's official synopsis:
Smith is set to star as Nick Cooper. At this point, Rapace's role is unknown. If you've read the Brilliance novel, please share your guess at her casting in comments.
We first got word of Brilliance back in early 2013, when Legendary Pictures acquired the novel's movie rights months ahead of its summer release. Shortly thereafter, Legendary set celebrated (and highly paid) screenwriter David Koepp on the task of adapting the novel into a compelling screenplay. For an idea of what Legendary is hoping for, consider Koepp's filmography, which boasts writing credits on Jurassic Park, Mission: Impossible and Jack Ryan: Shadow Recruit.
Less than a year later Koepp had clearly gotten the script to a place where Legendary felt comfortable moving forward. From there, the studio began negotiations with Will Smith to star, and now here we are.
Sci-fi has been a mixed bag for Smith of late. In the summer of 2012, he debuted Men in Black 3, a $225 million movie that made $624 million worldwide, but only $179 million domestically, along with mixed reviews. Then of course 2013 brought After Earth a $130 million vehicle for Will Smith and his son Jaden Pinkett Smith that earned just $60 million domestic. Worldwide, it managed $243 million, but the untold but undeniably high costs of print and advertising surely ate away at these overseas profits. Plus, the M. Night Shyamalan-directed adventure was absolutely loathed by critics.
Nonetheless, there's reason to be hopeful for Brilliance. For one, Legendary is winning rave reviews on their latest science-fiction tent pole Godzilla. For another, they've gotten Koepp on board to craft a compelling concept into a masterfully suspenseful screenplay. So Brilliance has a solid base, even before you add the star power of seemingly effortless charisma of Will Smith and Noomi Rapace. We'll give you more on this project as it develops.
Brilliance will go into production this August. In the meantime, keep an eye out for Marcus Sakey's other adaptation, Good People, which is expected to hit theaters later this year.
Your Daily Blend of Entertainment News
Staff writer at CinemaBlend.