David Koepp To Adapt Upcoming Novel Brilliance Into X-Men-Like Movie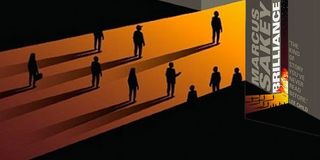 Chances are you haven't heard of Marcus Sakey's latest novel Brilliance. That's understandable since it won't be hitting bookshelves until July 16th. Despite that handicap, it's already scored a movie deal with Joe Roth and Palek Patel producing.
THR reports Legendary Pictures will be backing the adaptation, and has hired storied screenwriter David Koepp to draft it. Koepp seems a sharp choice considering he's penned such successful movie adaptations as Steven Spielberg's Jurassic Park and Sam Raimi's Spider-Man. Understandably, Koepp is one of Hollywood's highest priced and hotly sought screenwriters, so it speaks well for Brilliance that Legendary has brought him on board. But what's the story all about? In a word: mutants. Except in the world Sakey paints they are known as "brilliants."
Brilliants are people who have a superhuman power. Each brilliants' power is different and distinctive. Maybe they can tell what your deepest secret is, or turn invisible. Perhaps they have a preternatural skill for interpreting the stock market or—as is the case with Brilliance's hero federal agent Nick Cooper—tracking down terrorists. Cooper's special skill proves crucial in the plot of this soon-to-hit novel, wherein a malevolent brilliant plans to use his super powers to incite civil war.
You might be thinking this sounds similar to the plot of the X-Men movies, and you wouldn't be wrong. Without having read Sakey's novel, it's hard to gage how much his world and storytelling owes to the X-Men, but as Chronicle showed last year, you don't need Marvel's brand to make an intriguing tale about super-powered people. And with early reports suggesting Brilliance could be the start of a trilogy, it's a good sign that Legendary wants to start off strong with a screenwriter like Koepp.
Staff writer at CinemaBlend.
Your Daily Blend of Entertainment News
Thank you for signing up to CinemaBlend. You will receive a verification email shortly.
There was a problem. Please refresh the page and try again.