Someone's Trying To Make A Time Travel Fast & Furious Movie, And We're So On Board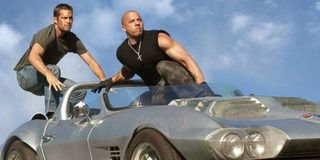 Over the course of seven films, the Fast & Furious franchise has done some downright mystifying and audacious stunts with an array of automobiles. Work is currently taking place on the soon to be released Fast & Furious 8. But a group of young filmmakers are thinking ahead to the ninth entry to the series, and they've come up with a perfect idea that will see Vin Diesel, Michelle Rodriguez, Dwayne Johnson, Ludacris, and Tyrese Gibson travel back in time to take on Adolf Hitler.
An Indiegogo campaign has been started to create Fast Nein: The Fast And The Fuhrer. But rather than just being some flippant fun, the team behind this push has even written a 70-page script, and also have created a poster that you'll immediately fall in love with.
How can anyone not want this film to happen? In their pursuit to raise funds, the Indiegogo page, which has been created by Jordan VanDina, teases that the next installment to the Fast & Furious series would include cameos from each of The Expendables, Donald Trump, as well as The Terminator, Back To The Future's Doc Brown, and Adolf Hitler's micro-penis.
Oh, and if that wasn't enough, Vin Diesel and his merry band of car-nuts also go back in time and somehow stop 9/11. Want to know how? Then just click over to the Indiegogo page and read through the script. Or, if you can't be bothered to read, you can help to fund the film, which has currently raised just $335 in 3 days.
This team isn't looking to make Fast Nein: The Fast And The Fuhrer on the cheap, though. They've given themselves two months to raise $100 million. Which, when you take into account that Furious 7 cost $190 million is actually a huge drop in budget for the franchise.
While the chances of Fast Nein: The Fast & The Fuhrer actually making it to the big-screen are smaller than remote, I can't be the only one who believes that this is both a great idea and one that would also probably fit nicely into the franchise, too. Let's not forget how outrageously stupid Furious 7 was. Not only did half a dozen cars fall out of a plane and then land safely, but Vin Diesel and Paul Walker also did this:
Adding time travel into the mix, as well as having the posse stop 9/11 and destroy Adolf Hitler is just as stupid as the above. While making it a Back To The Future crossover, too, would mean that it'd be a sure-fire box office smash. Universal really needs to consider it. Please. Because now that we know about it, this simply has to become a reality.
Your Daily Blend of Entertainment News