Who Vin Diesel Wants To Take Over The Fast & Furious Franchise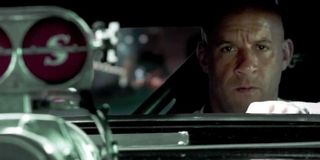 According to reports, Vin Diesel is part of the reason why there's a hold up on Fast and Furious 8; the actor is said to even want to direct a sequel installment himself. If that doesn't happen, however, Diesel has his pick for who should take up the helm next.
The actor took to his Facebook page and posted a lengthy update on the behind-the-scenes action. Nestled towards the bottom of the post, he threw Rob Cohen's name into the running for Fast 8 director. His statement on the matter read in part,
Cohen directed the first installment of the popular franchise, 2001's The Fast and The Furious. The film introduced Walker's Brian, a rookie cop going undercover in the world of Los Angeles street racing in the hopes of stopping a jewelry heist. During his mission, he befriends Diesel's Dominic Toretto and falls in love with Dom's sister Mia (Jordana Brewster). Cohen hasn't been involved in the Fast and Furious franchise since that initial go, though he directed Diesel in 2002's xXx and continued his directing run with Stealth (with Jessica Biel, Jamie Foxx), Alex Cross (with Tyler Perry), the latest Mummy installment (with Jet Li), and J.Lo's The Boy Next Door.
Despite Vin Diesel's recommendation, Fast 8 might not be in Cohen's wheelhouse. Back in 2013, he was attached to direct the Road House remake, but there's been no mention of him since MMA star Ronda Rousey was announced to succeed Patrick Swayze in the lead role. Production is set to begin in 2016, and all that we know is that the studio went in a different direction with the screenplay. This likely means that Cohen isn't directing anymore, but there's been no concrete update on the matter. Meanwhile, Cohen is said to be in pre-production on a Marco Polo movie for Paramount with Star Wars prequel actor Hayden Christensen as the traveling merchant. That film also doesn't have an official release date, but Universal and Diesel already announced Fast 8 for release on April 14, 2017. Assuming Road House is off the table, this could fit into Cohen's schedule, but, again, we need something more than assumptions to go on.
Producer Neal H. Moritz told Cinema Blend a couple months ago that the Fast 8 team wouldn't hire a director until the screenplay was properly developed and gave them a better idea of where the film was heading. Vin Diesel mentioned in his Facebook post that he hopes the screenwriter (Chris Morgan) "will deliver something within the next two weeks." Stay tuned, Fast fans.
Your Daily Blend of Entertainment News
Thank you for signing up to CinemaBlend. You will receive a verification email shortly.
There was a problem. Please refresh the page and try again.