Son Of The Last Starfighter!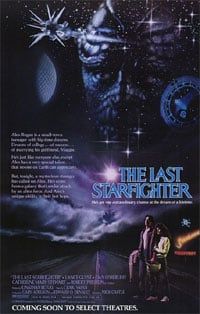 As a kid in love with both videogames and science fiction, few films simultaneously terrified me and fired my imagination like The Last Starfighter. You remember it, the 1984 movie about a kid who plays videogames and gets recruited by a space organization to put his joystick skills to use defending the galaxy from a nasty invasion. I always ran and hid behind the couch during the scene where Centauri pops out his eyes. Now the plot sounds a little silly, but The Last Starfighter is a great, classic sci-fi flick. A classic which is on its way to being revisited.
I've heard vague rumblings in recent years that a sequel might be in the works, and now it looks like it's actually happening. It is currently on the production schedule for a company called George Paige and Associates, and they list it as being distributed by Warner Brothers and Universal Pictures. Tonight I got an email from a scooper going by the name of ZondoDon, who claims that not only is it on the schedule, it's about to start shooting next month.
He adds: "It involves original director Nick Castle, writer Jonathan Betuel and actor Lance Guest. It's your basic Son of the Starfighter storyline and actually sounds pretty cool." A teenage Guest starred in the original movie, so if they really are pursuing a Son of the Starfighter plot, it makes sense that they'd want him back… assuming of course any of Zondo's scoop is true.
It does seem to check out. For instance George Paige really does have this listed on their upcoming slate of films. It's a little outside the normal fare of low budget work they've been credited with in the past, but some sort of Last Starfighter sequel definitely seems to be happening over there. As for whether or not it'll actually be a Son of Starfighter movie, consider that a wild (and exciting) rumor until we can get more confirmation. With any luck, I may have something more by tomorrow.
Your Daily Blend of Entertainment News
Thank you for signing up to CinemaBlend. You will receive a verification email shortly.
There was a problem. Please refresh the page and try again.