Special Screening Of Perfume Will Feature Scratch And Sniff Scent Track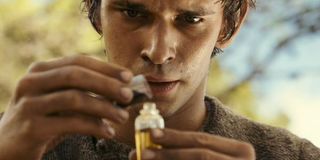 While some are still rolling their eyes over the industry's current obsession with 3D, a special screening in Los Angeles will pay tribute to a far less popular movie house novelty: Smell-O-Vision. THR reports special screenings of Perfume: The Story of a Murderer on November 6th and 7th in Los Angeles will boast a special "scent track" that will allow audience members to experience the antihero's journey by following his nose with special scratch and sniff cards made for the occasion.
This is not a new device. In 1960, William Castle called it Smell-O-Vision. In 1981, John Waters called it Odorama. But considering Perfume--both Tom Twyker's movie and Patrick Suskind novel it's based on--deal heavily in what the characters smell, this is a pretty inspired use of this gimmick. Beyond that, the scratch and sniff cards have been designed by perfumer Chrisophe Laudamiel and his partner Christoph Hornetz based on a limited edition collection that debuted upon the film's initial release back in 2006 though Thierry Mugler.
Set in the rank streets of 18th century France, Perfume: The Story of a Murderer tells the tale of Jean-Baptiste Grenouille (Ben Whishaw) a foul killer with a keen sense of smell but no personal scent of his own. In his quest to create the world's finest perfume, he works at a perfume shop run by Giuseppe Baldini (Dustin Hoffman), and indulges in murder to get the ingredients he demands.
The special edition coffret sold for $800 each. Its small box lined in red velvet contained 15 scents that aimed to tell the story of the film through smell. (You can read a review of this endeavor here.) But these weren't typical perfumes of flowers and spices. As the story talks about the necessity for vile smells to recognize the good, Laudamiel and Hornetz created scents that represented every aspect of the book, down to particular passages. Baldini's Boutique is said to smell of spice, beeswax and violet. Orgy smells of warm vanilla and a musk reminiscent of sweaty skin, while Paris 1738 is meant to invoke the smell of sewage, rotting food and horse sweat.
A fan of the novel, Laudamiel had begun work on this collection essentially for his own pleasure when he heard in the early 2000s that a movie version was in development. He dedicated his free time to creating the smellscape of Perfume's Grenouille, and once he was finished--completing the packaging with vials bought at a flea market--he and Hornetz contacted Constantin Films about a possible movie tie-in. It was a lush bit of movie marketing, but none of the individual scents were ever mass marketed. Of course now LA moviegoers can experience this different brand of 3D movie by scratching off the card to allow Laudamiel's scents to envelop them as they watch this story of twisted passion and murder.
The logistics of these kinds of screenings are complicated, which is part of why scent tracks have never really caught on. But Laudamiel has high hopes for this device, and has started his own company DreamAir to explore it as well as other unconventional uses for fragrances. While it may seem too strange to catch on, he believes this could prove a unique way to get audiences back into movie theaters, saying, "It is the one experience that cinemas can offer to viewers that Internet downloads cannot."
These scented Perfume screenings are free and open to the public, courtesy of the Institute of Art and Olfaction.
Your Daily Blend of Entertainment News
Staff writer at CinemaBlend.