Spectre Reveals Details On The Latest Bond Girls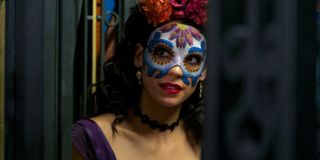 A few months back, Cinema Blend accompanied hordes of other journalists to infiltrate the set of the new James Bond movie, Spectre. But even then the secrets of the plot and new characters were locked up tight within MI6. With a new trailer dropping tomorrow, however, new details have emerged to shed some light on the (count 'em) four Bond girls playing opposite Daniel Craig.
Lea Seydoux of Blue Is the Warmest Color, Italian actress Monica Belluci, Mexican starlet Stephanie Sigman, and Skyfall's Naomie Harris are the women of Spectre. We've only known their character names for the past few months, but USA Today has uncovered some secrets hiding behind their mysterious eyes.
First up is Seydoux's Madeleine Swann, not to be confused with the Mad TV character with a similarly spelled name. She's described as "the doctor daughter of an assassin," and her first abrupt encounter with 007 takes place at her Austrian clinic. It should't come as a shocker that there is a spark between her and the international man of mystery, but even though it's he who comes to seek her out, she wants nothing to do with him. Sony and MGM previously released a behind-the-scenes video from the set of Spectre and it revealed a sequence in the Austrian Alps. Perhaps this is the location of Swann's clinic, though the footage also revealed some gunplay and the presence of Dave Bautista's Mr. Hinx, which can't be good for her patients.
Next on the list is Belluci's Lucia Sciarra. The actress's role in Spectre earned a bit of buzz when she was first announced, as Belluci marks a change in the Bond girl trend. In other words, 007 is dating someone age-appropriate. Sciarra becomes a widow after her Mafiosa husband is murdered. Said husband is the same man featured in the opening sequence of the film. While on the set, we saw Bond chasing him through the streets of Mexico City during a Day of the Dead celebration. Bond comes to her for information, and when she realizes the attraction between them and her feminine power over the agent, she believes he can prevent her from meeting her former husband's fate.
The third newbie joining the cast is Sigman's Estrella. While the actress wouldn't go into detail about her character, other than to say she shares the same joyous personality as herself, we already know some information. A rep for Spectre told us a while back that she's involved in the film's opening, which sees Bond seemingly heading back to her hotel room for some sexy time, but really he's just using this opportunity to get a better view of the baddies he's tracking down in Mexico City.
Last but not least is Harris's Moneypenny. After nearly killing her former partner in the field, Spectre will see the character supporting Bond in a different way. According to the actress, she's more grounded and mature in this regard, but producer Barbara Broccoli told us on the set that there's no keeping her behind a desk for long.
Spectre hits theaters on November 6, and check back tomorrow for the new trailer.
Your Daily Blend of Entertainment News