Stan Lee May Have A Bigger Role Than Usual In Avengers: Age Of Ultron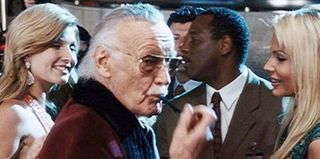 Legendary comic book writer and creator Stan Lee shows up for a cameo in damn near every movie based on a Marvel title, whether Marvel Studios produced the picture or not. There are a few where he doesn't, but in the next big comic adaptation, fans will get a double dose of Stan the Man.
When Comic Book caught up with the 92-year-old comic icon at a recent event, they asked him if he shows up in Joss Whedon's upcoming Avengers: Age of Ultron. Lee responded:
As with most things Marvel movie related, there isn't much more than this quick tease, as Lee remained tightlipped, joking that he might be killed if he were to reveal his role. He does sound pretty excited about it, though, whatever it is, and added that he's "dying to talk about it."
The guy has been around this particular block a time or two, having delivered dozens of similar small appearances, so if he's pumped about it, hopefully it's something memorable. Then again, he's always been a rather enthusiastic fellow when it comes to this sort of thing, so who knows. Fingers crossed that it's more just he has a line in one scene then is still milling around in the background during the next one. Like most things about Age of Ultron, we won't find out for sure until we see it.
While Age of Ultron is toying with the Stan Lee cameo formula, they're not the first to think this way. Last summer, James Gunn's Guardian's of the Galaxy almost killed him off. He was originally supposed to be in a box at the Collector's joint on Knowhere, where he was going to flip off Groot. Later, when everything goes to hell, his box was going to be seen exploding and his head was going to roll into frame. Ultimately, this was deemed too jokey, and they filmed with a double anyway, so it wouldn't have really been Stan Lee, and they went with the Xandarian Ladies Man you see in the finished movie.
Just the other day it also came out that the Stan Lee appearance is not the only Marvel tradition that Age of Ultron plans to buck. If you stick around to the end of the credits, all you'll see is the end of the credits. There's reportedly not going to be any post-credits stinger this time out (though how many of us are still going to sit through just to make sure?). Marvel President Kevin Feige did say that there's still a tag scene, one that appears during the credits, though Whedon said he didn't think they could top the shawarma bit from the first Avengers, and opted to not even try.
So on May 1, when you sit down for Avengers: Age of Ultron, prepare yourself for an extra helping of Stan Lee. Maybe that will make up for the lack of a post-credits scene.
Your Daily Blend of Entertainment News
Thank you for signing up to CinemaBlend. You will receive a verification email shortly.
There was a problem. Please refresh the page and try again.