Star Trek 3 Just Cast A Badass Female Lead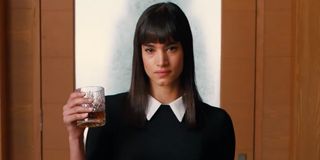 Not many people in the U.S. know Sofia Boutella by name. Instead, she's that girl with the samurai sword legs in Kingsman: The Secret Service. This could all change, however, with her next role. The 33-year-old Algerian actress has just been cast in Star Trek 3, and she has a major part to play.
Deadline was the first to report the news of Boutella's casting, though details on which character she will play are not known at this time. Could she be a new member of the Enterprise crew? A new love interest for Chris Pine's Captain Kirk? Or a member of an alien species? With Fast and Furious director Justin Lin at the helm of Star Trek 3, and the script penned by franchise star Simon Pegg and Doug Jung, the third installment of the new reboot seems to be in pretty good shape. That means we'll hopefully get to learn more about what to expect from the film.
Boutella kicked so much ass in the role of Gazelle in Kingsman. As the personal assistant/bodyguard to the villain Valentine (Samuel L. Jackson), she was on hand with her killer legs (literally) to handle any problem that might arise, including Colin Firth and his intrepid Kingsman agents. Check her out in action.
She's been featured previously in a handful of films, including StreetDance 2, which is essentially the U.K.'s answer to the Step Up franchise.
Reports surrounding Star Trek 3 claim that there will be three new female characters: the ex-wife of Bones (Karl Urban), the President of the United Federation of Planets, and a Starfleet ship captain who challenges Kirk. Though, this doesn't mean Boutella will assume one of these roles. Other rumblings state that the Klingons will be the primary antagonists in Star Trek 3, after only a minor appearance and sporadic mentions. Idris Elba is reportedly attached as the main baddie, which was presumed to be a member of this species. Simon Pegg sinced clarified he won't be, but might this be the case for Boutella's character?
Elsewhere, we hear that Star Trek 3 will take place a few years after Star Trek Into Darkness, amid the Enterprise's "five-year mission" into deep space. This opens the door to feature a bevy of aliens and storylines. Admittedly, the film has gone through a number of changes, so what was rumored a few months ago may not be true now. Another contributing factor was the tragic passing of Leonard Nimoy. The original Spok was prepping to reprise his role in Star Trek 3 alongside William Shatner, which means present and future Kirks and Spoks were to meet.
Your Daily Blend of Entertainment News