The New Star Wars Book Will Quietly Have A Huge Effect On The Movies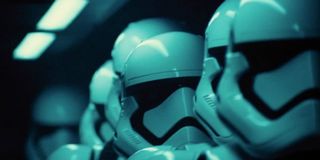 We're still just under a year away from the release of Star Wars: The Force Awakens in theaters, and we find out exactly what's been going on in a galaxy far, far away. Of the many things we're curious about, though, one of the biggest questions we want answers about is regarding what exactly is going on with John Boyega's character, Finn? After all, there has been a good deal of controversy in the Star Wars fan community ever since he was revealed in the film's first teaser trailer, as many are still under the impression that Stormtroopers are supposed to be clones (as seen in Star Wars Episode II: Attack of the Clones). As it turns out, we won't actually have to wait until the movie comes out, as A New Dawn, the first book in the new in-canon series of novels created after Disney absorbed Lucasfilm, and has revealed that Stormtroopers actually haven't been clones in the Star Wars timeline since before the start of Star Wars Episode IV: A New Hope.
This new revelation has been pointed out by the folks over at HitFix, who have found evidence from the text proving that not all Stormtroopers are clones, and haven't been since before the events of the first Star Wars movie. The site has highlighted a few key phrases from A New Dawn that prove this, specifically one describing a scene where Stormtroopers burst into a bar in search of a wanted criminal. The book describes two Stormtroopers, one male and one female, emerging from the pack to address Kana - who some of you will know as a character from Star Wars Rebels. Author John Jackson Miller told an audience at San Diego Comic-Con this past summer that this book is set in between the events of Star Wars Episode III: Revenge of the Sith and Star Wars: A New Hope, so this is quiet confirmation from Lucasfilm that the Troopers are not clones anymore and that they can be even be female.
This new development definitely jives with what we've heard in previous reports, which suggested that virtually unknown actress Amybeth Hargreaves will be playing a female Stormtrooper in Star Wars: The Force Awakens. The story speculated that she could also just be serving as a double for Game of Thrones star Gwendoline Christie, but it has been recently rumored that the actress is also set to play a version of a Stormtrooper called a "Shocktrooper." To get back to the original point, though, this news also basically confirms that John Boyega's Finn might actually be a Stormtrooper himself, instead of just pulling a Luke/Han move and using the armor as a disguise.
This bit of news certainly does add to the limited amount of knowledge we have about Star Wars: The Force Awakens - other than limited info about the characters being played by Oscar Isaac (X-Wing pilot Poe Dameron), Daisy Ridley (the heroic Rey), and Adam Driver (reportedly the villainous Kylo Ren), but there are still a lot about the film that is being kept secret and on lockdown. For example, what kind of roles will we be seeing played by Oscar winner Lupita Nyong'o or motion-capture master Andy Serkis? J.J. Abrams has been very tightlipped and, with Lucasfilm, has been torturing us with small snippets of intel at a time.
Your Daily Blend of Entertainment News