Star Wars Is Definitely Giving Han Solo His Own Movie, Get The Details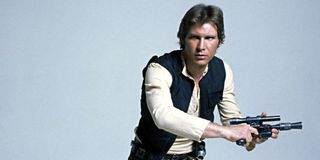 Disney and Lucasfilm have continued their trend of hiring sharp young cinematic minds to handle their rapidly expanding Star Wars universe. They've now grabbed Lego Movie directors Phil Lord and Chris Miller to helm one of the standalone spinoff movies, and they've been given one of the franchise's most beloved characters: Han Solo.
Just announced at StarWars.com Lord and Miller, who was an intern at Lucasfilm and inside a stormtrooper suit in one of George Lucas' special editions, have been tasked with bringing a young Han Solo to movie theaters everywhere. It will reportedly be their next directorial project, and they released a statement that says:
As much as I'm not a huge fan of the idea of a movie centered on a young Han Solo—creating a young version of such an iconic character is problematic in any number of ways—if anyone is going to do it, Lord and Miller are aboud as close to a perfect choice as you're going to get. Who expected a 21 Jump Street reboot to be good? And the Lego Movie looked pretty forgettable, but wound up being one of the best movies of the year.
Lord and Miller are clever and sharp, and have their fingers on the pulse of what people want, as well as being respectful to the source material. It will be interesting to see how much input the duo has on the script and story. As it stands now, Joe and Lawrence Kasdan are handling the script, and the official logline is:
That sounds like your standard origin story, and what you would expect to learn from a tale about the early days of Han Solo. We're curious to see if, now that this is happening, we encounter Han's wife, Sana Solo, who we met a while back in one of the recent Star Wars comics published by Marvel. Those are official canon now, so it is entirely possible we're going to see what happened there.
It's also going to be interesting to see what impact this has on a variety of other projects. Lord and Miller are a hot commodity and have a lot of things going right now, including producing an animated Spider-Man project for Sony, as well as The Lego Batman Movie, Ninjago, and The Lego Movie Sequel. They've also been linked to DC's upcoming Ezra Miller-starring adaptation of The Flash, though likely means the duo are leaving that picture.
Lord and Miller's young Han Solo movie will be the fourth new Star Wars movie we get, preceded by J.J. Abrams' Star Wars: The Force Awakens, Gareth Edwards' Star Wars: Rogue One, and Rian Johnson's Star Wars: Episode VIII. It is scheduled for release May 25, 2018.
Your Daily Blend of Entertainment News
Thank you for signing up to CinemaBlend. You will receive a verification email shortly.
There was a problem. Please refresh the page and try again.