Star Wars Drops New Details About The Force Awakens Stormtroopers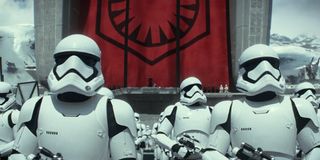 Though Marvel is largely staying out of the Comic-Con festivities next week, Star Wars: The Force Awakens is not. Ahead of whatever special look we'll be getting from the film, Hasbro unleashed a look at its new Comic-Con exclusive Stormtrooper toy and with it comes some new information about this updated squadron of Imperial soldiers.
Yahoo Movies published a photo of the 6-inch First Order Stormtrooper action figure, which comes with a special booklet containing information on how this new generation of fighters came to be. Most of the blurb, which we already wrote about, details how the Stormtrooper was originally a galactic protector and peacekeeper until the Emperor grew to power. But in the aftermath of the villain's fall, a new authority referred to as The First Order came to power and ushered in a "new era of ruthless brutality." The First Order Stormtrooper is, then, the enforcers of this rule.
Based on what we know of The Force Awakens — which, in truth, is fairly limited — The First Order seems to draw most of their principals and imagery from the once-strong Galactic Emperor, as seen through the new variations in the TIE Fighter, Death Star and Stormtrooper designs. Yahoo notes that Star Wars Uprising, a canonized video game that takes place after the fall of the Empire, sees factions of Imperial leaders attempting to retain their power through intimidation. Though the Emperor and Darth Vader were killed, those remaining in the Empire tried to convince the galaxy that they were still very much alive. Still, word got out and caused bounty hunters, smugglers and gangsters to unite and test their power. Hopefully we'll learn more about the in-between years leading up to the events of The Force Awakens, because with the product's description stating how The First Order arose during this same period, it's likely that at least some of the figures behind The First Order are leftovers from the Empire, these same men and women who once followed the Empire attempting to retain authority.
Star Wars Celebration featured a number of costumes from The Force Awakens, including the various Stormtrooper armor. Aside from the standard First Order Stormtrooper, we will also see Flametroopers, Snowtroopers, Heavy Troopers, Shield Troopers, Navy Troopers and Stormtrooper Commander. The one trooper to rule them all is Captain Phasma. Played by Game of Thrones badass Gwendoline Christie, this general of sorts sports a cape and glistening chrome armor. Rumors and reports suggest that her main task is hunting down Finn, an AWOL Stormtrooper, and bring the pain of The First Order down upon him.
John Boyega plays Finn in The Force Awakens, and he's one of many new faces joining the Star Wars ranks. Rounding out the main trio are Daisy Ridley as Rey, a scavenger on the desert planet Jakku; and Oscar Isaac as Poe Dameron, an X-Wing pilot sent on a mission by "a certain princess." We also know that Adam Driver is our new Sith knight named Kylo Ren, Lupita Nyong'o plays a CG space pirate named Maz Kanata, and Andy Serkis goes mo-cap for Supreme Leader Snoke. Mark Hamill (Luke Skywalker), Carrie Fisher (Princess Leia) and Harrison Ford (Han Solo) will also reprise their roles from the original trilogy, along with a number of returning and newbie actors.
Star Wars: The Force Awakens will hit theaters on December 18, but keep tabs with us during next week's San Diego Comic-Con for the latest on the film.
Your Daily Blend of Entertainment News
Thank you for signing up to CinemaBlend. You will receive a verification email shortly.
There was a problem. Please refresh the page and try again.