Star Wars: Episode 8 Wants To Cast Hong Kong Action Star As A Jedi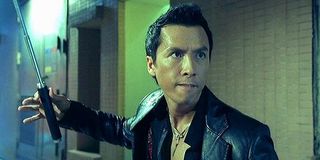 By the time of the anticipated launch of the Star Wars sequel trilogy this December with Episode VII: The Force Awakens, we will have gotten to either love or hate a slew of new primary characters. However, rumors are circulating that the middle act might add some Force-powered chop-socky with the exciting addition of Hong Kong action star, Donnie Yen.
A Hong Kong tabloid called Apple Daily has stoked the rumor fires with their report claiming that Donnie Yen, one of the most bankable stars in the lucrative China film market, has landed a role in the yet-to-be-titled Episode VIII, directed by Rian Johnson. As the sparse details of the report imply, Yen would prospectively play a Jedi, who, by some fateful set of circumstances, becomes a friend to Harrison Ford's Han Solo in the battle against the neo-Imperial organization known as The First Order. The report goes so far to claim that the actor leaves for London early next month to begin shooting said role.
This Jedi role could actually entail more than just a blink-and-you-miss-it cameo. The report implies that Yen beat out several notable peer candidates; some of whom have actually established themselves in the U.S., such as Jet Li, Stephen Chow, Tony Leung, Chang Chen, Daniel Wu and Wang Leehom. Apropos to such a casting call, the unnamed Jedi role will apparently see the actor embroiled in immense amounts of actions shots. However, it seems that this pool was whittled down rather quickly to Yen and Li, due to their ability to articulate lines in English; something that seems to further solidify the idea that this Jedi character could be rather important in the scheme of the new trilogy.
Considering the tabloid source, the veracity of the report should be prudently questioned. After all, the mere idea that Han Solo would still be around for Episode VIII could be seen as either a spoiler or irresponsible soothsaying. However, sources from the news site Twitch claim that the report is awfully close in nature to "rumblings" they've been hearing that Gareth Edwards, director of next year's spinoff Star Wars Anthology: Rogue One, has been looking at a number of Chinese actors. Certainly, the increasing importance of China in helping to boost profitability (and in some cases, recover losses) for big-budget bonanzas, makes it reasonable to assume that there is a grain of truth to the idea that Episode VIII might be looking to make itself more palatable to Chinese moviegoers as it heads into that critical sophomore stage.
While Donnie Yen's lightsaber license may not yet carry an official stamp, the actor readies a slew of other big projects such as the follow-up film to one of the most successful mystical kung fu films of all time in Crouching Tiger, Hidden Dragon: The Green Legend, which hits cinemas on August 28. Next year's Noodle Man will see Yen as a retired Chinese-cop-turned New York City noodle shop owner, who confronts an old enemy. Additionally, next year's Ip Man 3 will have the Hong Kong ass-kicker step into the ring with boxing legend Mike Tyson.
In the meantime, the only thing we truly know about the upcoming Star Wars: Episode VIII is that Looper helmer, Rian Johnson will settle into a director's chair still sporting the lens-flare-bleached ass groove of J.J. Abrams. The film is set to hit theaters on May 26, 2017.
Your Daily Blend of Entertainment News
Thank you for signing up to CinemaBlend. You will receive a verification email shortly.
There was a problem. Please refresh the page and try again.