Star Wars: Episode VII Offering Role To Jonathan Rhys Meyers?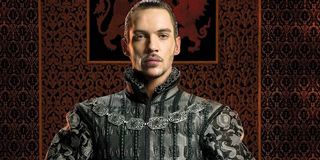 Now that Star Trek Into Darkness is out in the world and racking up cash, it's safe to turn our attention to where director J.J. Abrams will boldly go next, which is of course Star Wars: Episode VII. The amount of actual confirmed information is vastly outweighed by endless rumors, and now we've got another unconfirmed report to add to the pile. The scoopsters at Latino Review, who have been busy digging up info on the new Star Wars production, say that an offer is out to Jonathan Rhys Meyers to take a starring role in the film?
Who will he play? No telling. Will Abrams or anybody confirm it? Don't count on it. But Meyers makes as much sense for a role in the film as anybody else, having played a role in Abrams's own Mission: Impossible III, and making his name as the star of The Tudors and in movies like Match Point, From Paris With Love and Bend It Like Beckham. On the other hand he's the lead character in Dracula, the new drama just picked up by NBC for its fall schedule. TV stars take time off for their movie careers all the time, but a role in the new Star Wars movie isn't exactly the kind of thing you can knock out in a monthlong hiatus. Rhys Meyers is a talented and fascinating actor, but is a production as big as Star Wars: Episode VII willing to work around Dracula?
TV conflicts aside, the Meyers news has to be treated as rumor for now, since Abrams is unlikely to confirm much of anything until he absolutely has to, and with Episode VII not slated to start production until early next year, we've got a long way to go before anything is set in stone. But if you're a fan of Meyers' glowering on The Tudors or weirdly sexy soccer coaching in Bend It Like Beckham, let us know how you want to see him fit into Star Wars
Your Daily Blend of Entertainment News
Staff Writer at CinemaBlend
Your Daily Blend of Entertainment News
Thank you for signing up to CinemaBlend. You will receive a verification email shortly.
There was a problem. Please refresh the page and try again.