Star Wars: Episode VII Pushed To December 2015?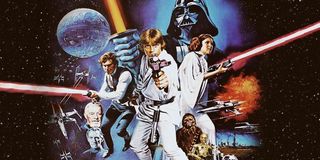 Some of the vagueness that surrounds Star Wars: Episode VII these days is probably a typical result of the J.J. Abrams "mystery box" strategy. But some of it is starting to seem suspicious, especially with the movie's complete absence from Disney's D23 convention, where studio chief Alan Horn only reiterated a planned 2015 release date. Huge 2015 tentpoles like The Avengers: Age of Ultron, Ant-Man, Bond 24 and The Fantastic Four all have confirmed their dates for the year, but Star Wars-- arguably the biggest of the bunch-- remained unclear. What's going on?
Badass Digest, digging through what they've heard from multiple sources, has a theory. They say that Disney has circled December 2015 for the Episode VII release date, with a bow on December 15 the most likely. Every previous Star Wars film has opened in May, so that would be a break with tradition, but mid-December has increasingly has become a solid spot to open big, fanboy-friendly entertainment as well. It's where Disney placed Tron: Legacy-- another attempt to revive a franchise from an earlier period-- and where Avatar opened on its way toward becoming the biggest film of all time. It's also a fair distance from the brutally crowded summer movie season, which is packed full of film's from Disney alone-- on top of Avengers 2 and Pirates 5, the studio also has the fairy tale revamp Cinderella coming in March and the new Pixar film Inside Out in mid-June. The mid-May space typically occupied by Star Wars isn't currently taken, but if Disney wants to give Age of Ultron as much breathing room as possible after its May 1 bow, they'd be smart to keep Star Wars out of the mix.
Given how many elements of the Star Wars legacy have been tweaked or trampled entirely since the prequels, the shift from a May to a December release date can't possibly be the worst thing that's ever happened to Star Wars fans. And the December date would give Abrams, who hinted ages ago that he wouldn't necessarily make the 2015 date happen, at least a few months to finish the movie. Many of us had speculated that Star Wars could be pushed out of 2015 entirely with enough pressure from Abrams, but Horn's statement at D23 seemed to at least confirmed they were committed to that year. Is the December push the best way to give both Abrams and his corporate bosses both what they want, while also keeping Star Wars out of the crowded summer season entirely? Find out when/if this release date-- or anything at all about Episode VII for that matter-- gets officially confirmed.
Staff Writer at CinemaBlend