Star Wars Fanatic Builds His Own Millennium Falcon, Shows You How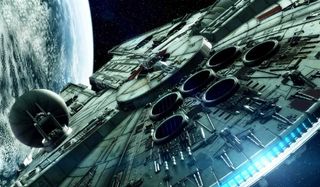 Han Solo's legendary hunka junk, the Millennium Falcon, is not just a marker of the Star Wars franchise, it's been proven to lift all of our spirits, as was the case when we first saw it speeding over sand dunes in the Episode 7 trailer. In honor of this crowning science-fiction achievement, one fan has created his own spacecraft in drone form. Better still, he teaches us all how to make our own!
YouTube user Olivier C has been making drones for some time and posting video footage of them in action on his channel. But his Millennium Falcon drone is by far his coolest creation yet, which he made by decking out his custom quadcopter. His video, found via Mashable, of his Falcon floating over the snowy landscape of Hoth (no not really, but let's pretend) has been picking up steam with online viewers. Fortunately for you, if you feel crafty and know the difference between a Naza v1 flight controller and a Gopro 3 black 1080p-50, then you might be able to create a replica of this invention.
Olivier C has detailed his entire creation process on the rcgroups.com online forum, accompanied with photos. Basically, the Falcon quadcopter is made from a foam shell equipped with those famous thruster lights, including ones in the front. The main issue, he notes in his step-by-step process, is making the contraption balanced. For example, while he originally designed it to equip a Gopro at the front, he had to remove it "to gain weight," which forced him to slightly offset the craft to the rear.
If all of this isn't making a lick of sense, don't worry. You're not the only one. Let's leave the making-of process to the inventors and the rest of us can simply enjoy the incredible videos that they make as a result. I'm already envisioning what the #NailedIt photo feature on BuzzFeed will look like with all of us attempting to make our own.
Since posting images of the process on Reddit, Olivier C and his Falcon drone have made it to the front page of the DIY subreddit, and have been picked up by a number of sites. As he notes in the Reddit thread, his next project will be making an accompanying TIE fighter. We assume this means some pretty epic Star Wars-inspired drone battle sequences played out on this faux Hoth. He should also recreate that final scene in the Star Wars: Episode 7 trailer which sees the Falcons swooping down over the sands of Tattooine (we're assuming it's Tattoine) to duke it out with an oncoming TIE fighter.
The Force is strong with Olivier C.
Your Daily Blend of Entertainment News
Thank you for signing up to CinemaBlend. You will receive a verification email shortly.
There was a problem. Please refresh the page and try again.