Star Wars: The Force Awakens Gets A Drew Struzan Poster And It Is Gorgeous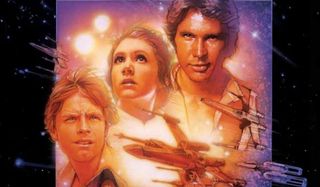 Tons of exciting announcements have been streaming off the stage at the D23 Expo, and thanks to our own Eric Eisenberg on the floor, we're making sure all the best news get right to you. One little snippet in particular, only seen by those in attendance, was a new Star Wars: The Force Awakens poster created by famed poster artist Drew Struzan. But don't you worry, because even though we don't have the full quality version quite yet, here's your first peek:
There hasn't been much official artwork released in regards to The Force Awakens up to this point. But now, Disney and Star Wars released the official theatrical poster for the feature, and the most exciting part, it is done by iconic artist Drew Struzan. What makes Struzan's work on this poster particularly special is that the artist was behind the Star Wars movie posters before this. He is known in the industry for his stunning, hand-painted posters that are uniquely styled to his own, and are particularly rare in an increasingly digital art world.
Aside from just being a gorgeous piece of art, Drew Struzan's poster has also given us a closer glimpse at a few of the main characters in the upcoming installation to the Star Wars franchise. One big reveal is that John Boyega's character Finn is wielding Luke Skywalker's old blue lightsaber, a seeming confirmation that the character will be using the weapon at some point during the film (and maybe even be a Jedi?). There have been teases of his connection to this weapon before, but now we get to see a full fledged pose, and he certainly looks like a force to be reckoned with. Then we've got Daisy Ridley's character Rey also looking incredibly badass, with Kylo Ren peeking out from behind yielding his signature three-pronged saber. At last, but certainly not least, Harrison Ford's Han Solo returns in all his glory. This certainly isn't the first time Struzan painted the iconic Star Wars character. Though this time around, a bit of aging came into play.
Struzan, famed for his Star Wars and Indiana Jones posters in particular, is also behind hundreds of iconic movie posters ranging from Back to the Future to Harry Potter to Rambo. Hopefully we'll be seeing more of Struzan's work with the upcoming Star Wars anthology films. But for now we'll just stare at this new and exciting piece in awe as we countdown the days until December 18.
Your Daily Blend of Entertainment News
Thank you for signing up to CinemaBlend. You will receive a verification email shortly.
There was a problem. Please refresh the page and try again.