Star Wars: The Force Awakens Will Introduce Way More New Characters Than We Thought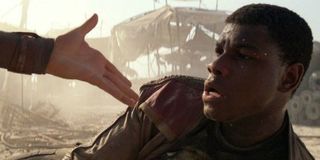 Star Wars: The Force Awakens' release date is continuing to each inch closer and closer with every passing second. Of course, excitement for the film is already at a preposterous level. But as more information is released regarding the seventh installment to the franchise, we can expect it to rise even higher. However, it turns out that an image that was released several months ago for The Force Awakens provided us with way more information than we first realized, and actually introduced us to a cavalcade of new characters.
The photo was a part of Vanity Fair's photo-spread for The Force Awakens, which was taken by famed photographer Annie Leibovitz, all the way back in May. And it turns out that individuals in the image of "Galactic travelers, smugglers, and other assorted riffraff [who] fill the main hall of pirate Maz Kanata's castle" will be returning for several Star Wars adventures.
According to Vulture, this was confirmed during New York City Comic-Con's Disney-LucasFilm publishing panel, where writers for upcoming Star Wars novels revealed that what was first assumed to be a raft of alien extras are actually going to be supporting characters in the films and other tales. Unfortunately, we still don't know too much more about most of them. However, what we do know is that the girl wearing black and grey in the middle of the image is named Bazine, and her character's story will now be expanded upon in the upcoming short story, The Perfect Weapon, written by Delilah Dawson. That will be released on November 24.
Meanwhile, the guy in red on the right, who also appears to be replicating a Michael Jackson style dance move, will feature prominently in The Crimson Corsair and the Lost Treasure of Count Dooku, another short story written by Alan Dean Foster. That's all we've got for now. But, come on, the unveiling of two new Star Wars characters is pretty huge news.
There's no denying the fact that every person/thing in the picture looks delightfully peculiar, though. In fact, you can't help but let your imagination run wild and immediately try to picture how they wobble, talk, and act just by looking at them. It's definitely worth giving up at least five minutes of your day to leaf through Annie Leibovitz's Star Wars: The Force Awakens photos for Vanity Fair. As well as giving us a peek at the inhabitants of Maz Kanata's castle, you'll also get to see Oscar Isaac standing stoically alongside his X-wing fighter as Poe Dameron, like a World War II pilot preparing to go off into battle.
While these pictures are admittedly sensational, all we really want to see now is more scenes from The Force Awakens. I mean, as great as its two trailers have been, we're now just two months from its release and we really don't have the foggiest idea of its actual plot.
But, that's probably the point. Because, we don't really need to know about the plot to be excited about Star Wars: The Force Awakens. We already know who the goodies and baddies are going to be, and in between that there will be lightsabers, air crafts fighting in space and plenty of chat about the force. We'll see if that all adds together to make a great film when Star Wars: The Force Awakens is finally released on December 18.
Your Daily Blend of Entertainment News
Thank you for signing up to CinemaBlend. You will receive a verification email shortly.
There was a problem. Please refresh the page and try again.