Star Wars: The Force Awakens Screens For Terminally Ill Fan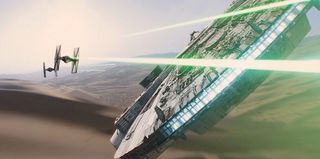 You're probably well aware of this fact, but the Star Wars saga has some rather hardcore devotees. Well, today Disney and Lucasfilm got to repay that dedication and love, at least a little bit, by screening Star Wars: The Force Awakens for one terminally ill fan.
Earlier this week, we wrote about Daniel Fleetwood, a lifelong Star Wars fan who is battling a rare form of cancer called spindle cell sarcoma. Given two months to live some time ago, there's a very real chance he won't make it to the December 18 release date. Today, Fleetwood's wife Ashley took to Facebook and revealed that Daniel watched an unedited version of The Force Awakens at their Houston home, and to thank everyone for their support.
The 32-year-old Fleetwood and his wife launched a Twitter campaign to capture Disney and Lucasfilm's attention, which led to the #ForceForDaniel hashtag, which blew up and went viral. The cause was picked up and spread like wildfire, not only by fans and well-wishers, but even the cast of the movie themselves. Newcomers Daisy Ridley and John Boyega, who play Rey and Finn in the new movie, respectively, got in on the act, as did Luke Skywalker himself, Mark Hamill. You have to imagine that, for a dedicated Star Wars fan, having Luke Skywalker in your corner must be a thrilling, surreal moment.
After earlier voicing his support, Hamill himself took to Twitter to thank everyone involved for making the screening happen.
By this point, we all know just how secretive director J.J. Abrams, Disney, and Lucasfilm are when it comes to The Force Awakens. Hell, even though there is nearly endless discussion about it, we know relatively little about the movie, aside from what we've seen in a few short trailers, a handful of vague character descriptions, and more questions than we have answers for.
Even as steadfast as they are in their quest to keep details under wraps, it's heartening to know that they're willing to bend from time to time under extreme circumstances and for a good cause. If nothing else, it's nice to see a franchise like this that actually appreciates and cares about its fans.
We wish Daniel Fleetwood and his family the best of luck in his continuing fight, and hope that people don't bug him too much for plot details, spoilers, and the like.
Your Daily Blend of Entertainment News
Thank you for signing up to CinemaBlend. You will receive a verification email shortly.
There was a problem. Please refresh the page and try again.