Star Wars Might Finally Bring Back Lando Calrissian, Get The Details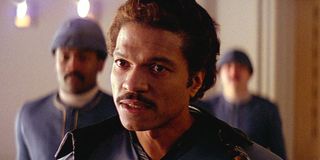 The Star Wars franchise makes its return this December with Star Wars Episode VII: The Force Awakens, brandishing the return of several cast members of the storied Original Trilogy. Apparently, one classic cast member who will be missing that boat is Billy Dee Williams in his role as the Cloud City Casanova himself, Lando Calrissian. However, according to his comments in a recent interview, Lando could still end up jumping into his cloud car and swooping his way into the new films, caressing a beautiful lady in one hand while holding a can of Colt 45 in the other. (Although, drinking malt liquor while cloud-car-flying is not recommended for people who are not Billy Dee.)
In an interview with Cinelinx, Williams discusses his recent return as the Lando Calrissian character by way of a voice performance for the animated series, Star Wars Rebels. However, it seems that the world of digital animation may not be the only means that the mustachioed smuggler of black market goods and non-single women returns to the Star Wars continuity. In fact, if Williams' tone is any indication, Lando could, in a move mirroring his Original Trilogy appearances, show up in the Sequel Trilogy sequels:
For the 77-year-old veteran actor, Williams, whose career dates back to the 1950's, the flamboyant blue-caped shadow cast over him by the Lando character is something that he now embraces. He now gladly finds himself a mainstay at Star Wars conventions where, according to Williams, fans see Lando as "perpetually me." If he wasn't amped to return before, then the Rebels performance certainly must have incited some craving to play Lando again. Now, with his role as Han Solo's wayward, but redeemed former partner in crime, Williams sees a prospective live action return as the culmination of the experience.
However, despite his clear adoration for the Lando character, who he claims is a "parody" of himself, he's not quite at a point where he's scanning the field of his prospective return. In the Cinelinx interview, Williams claims to have never seen The Force Awakens trailer and claims to have "no idea what they're doing with it." With that said, he does plan to see the film upon release, and, when asked what the answer would be when the fateful casting call does come, Williams responded unhesitatingly with "sure."
While it's pretty clear that the upcoming J.J. Abrams-led sequel films will focus on a new generation of Force-powered protagonists, it's also apparent that it is being approached with the heart of a fan. Thus, the return of Luke, Han, Leia and Chewbacca in a supporting capacity in Episode VII have to be seen as a sign that more classic characters are on their way to the two subsequent chapters; especially if one rumor of Lando's connection to a cast newbie is correct. Yes, we think that Williams' phone will ring, emitting a lens flare of Abrams-led optimism that Lando will return!
Your Daily Blend of Entertainment News