Star Wars: The Phantom Menace 3D Re-Release Trailer In High-Res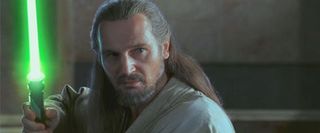 Star Wars: Episode 1 - The Phantom Menace will make its way back to the big screen in 3D next February. The trailer for the movie's re-release is now here in all of its podracing, lightsaber fighting, space battle glory.
Late last month this same trailer, which was being shown before screenings of The Three Musketeers in theaters, found its way onto Youtube, but was quickly pulled. Now it's available to view in a more official capacity, thanks to Apple. Check it out below.
The trailer goes out of its way to highlight all of the scenes that are likely to look the best in 3D, assuming the quality of the conversion is good. Will fans turn out in droves to see The Phantom Menace all over again? To those of you who are on the fence about about seeing it when it hits theaters on February 10th, did the above trailer win you over?
Your Daily Blend of Entertainment News
Thank you for signing up to CinemaBlend. You will receive a verification email shortly.
There was a problem. Please refresh the page and try again.