Graffiti Artists Sue Terry Gilliam Over The Zero Theorem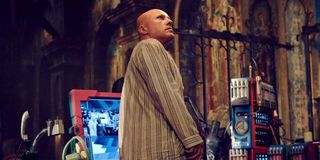 Terry Gilliam's reputation as a filmmaker is one of great vision and great misfortune. His difficulties in attempting to make The Man Who Killed Don Quixote filled the behind-the-scenes documentary Lost In La Mancha. And with the film still uncompleted, that 2002 doc could well merit a sequel. He hit an incredible obstacle with The Imaginarium of Doctor Parnassus when his leading man, Heath Ledger, unexpectedly died before production wrapped. And now, his latest, The Zero Theorem is facing a lawsuit over part of its set design.
THR reports Terry Gilliam is being sued by three well-known street artists who allege The Zero Theorem violates the copyright of their collaborative mural titled Castillo. Argentinians Franco "Jaz" Fasoli and Nicolas "Ever" Escalada, as well as Canadian Derek "Troy Lovegates -- aka Other" Mehaffey -- are holding Voltage Pictures, Amplify Releasing and other distributors as responsible for what they call Gilliam's "repeated disregard for copyright law." They are demanding an injunction against The Zero Theorem, which has already opened in Europe, Russia, Australia and much of South America and is set to hit the U.S. on September 19th. They are also seeking damages.
Okay. Let's break this down bit by bit.
The pictures found on this page are of Castillo, completed in December of 2010. Its artists included this image as part of court documents in the lawsuit. The piece was a mural they created in Buenos Aires's zona de graffiti--or street art zone--where graffiti artists are freely allowed to paint. Remarkably, this mural has not been painted over by others in the intervening years. Its persistence and popularity inspired the trio to copyright Castillo in 2013. And according to them, a mural clearly referencing theirs appears in The Zero Theorem, outside the main set of a dilapidated church. Here's one image from this set:
It's hard to argue that Gilliam's set design doesn't echo Castillo. There's a fighting rat man and a white figure with teal headdress and colorful strands coming out of his eyes. That's hardly up for debate. But is it homage and or copyright infringement? Part of Jaz, Ever and Other's argument is that they command tens of thousands for commissioned works, suggesting theirs is no common street art. Furthermore, they are trying to paint the image that Gilliam is a regular thief of art, referring to a 12 Monkeys lawsuit that alleged the design for a torture chair set piece in the film was ripped from Lebbeus Woods' drawing "Neomechanical Tower (Upper) Chamber." That case settled. But what about this case?
Art in and out its very nature references past works, and Gilliam's has always done so, even from his earliest cartoons on Monty Python's Flying Circus. His collision of influences both modern (graffiti art) and classic (the church's architecture and sculptures) are a major element of Gilliam's auteur style. But where do we draw the line between homage to a piece of art and copyright infringement? We'll find out as this case progresses.
This poll is no longer available.
The Zero Theorem is available on VOD tomorrow.
Your Daily Blend of Entertainment News
Staff writer at CinemaBlend.