Steve Buscemi's Queer Casts Kelly MacDonald, Guy Pearce And Ben Foster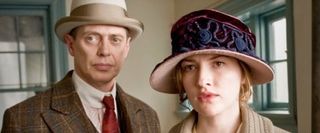 Every week on HBO you can see Steve Buscemi and Kelly MacDonald playing characters involved in an immensely complicated sort-of-marriage, as the corrupt politicians Nucky Thompson and his live-in girlfriend Margaret Schroeder on Boardwalk Empire.The two have set up a fantastic rapport over the course of Boardwalk's two seasons, and fans of the show will be delighted to hear they're moving on to do a movie together-- though they won't share the screen at all. Buscemi is preparing an adaptation of the William S. Burroughs novel Queer, and last night the screenwriter Oren Moverman spilled details to Vulture about the cast Buscemi is assembling.
In addition to MacDonald, Queer will star Guy Pearce and Ben Foster, though it's unclear which will play the semi-autobiographical (for Burroughs) role of the man who develops a fascination with another, younger man while living amongst an expatriate crowd in Mexico following World War II. The book had been intended as a follow-up to Burrough's Junkie but wasn't published until more than 30 years later, in 1985, due to the homosexual content that made it eligible for censorship back in the 50s. It was also written when Burroughs was awaiting trial for accidentally shooting and killing his wife in a drunken game of "William Tell." So yeah, there's that complication in there too.
Moverman said it wasn't clear when Buscemi would be able to start getting the film made-- he's busy running the corrupt Atlantic City, after all-- but he predicts, "once he has his hiatus next time around, after the next season, we're going to go shoot this movie. God willing." Of course, it's also going to be a little tricky to get financing for such a strange project, but with names like Buscemi and Moverman-- who directed the acclaimed upcoming Rampart-- I have a feeling they'll pull it off. At bare minimum, who doesn't want to see Nucky directing Mrs. Schroeder?
Staff Writer at CinemaBlend
Your Daily Blend of Entertainment News
Thank you for signing up to CinemaBlend. You will receive a verification email shortly.
There was a problem. Please refresh the page and try again.