Straight Outta Compton 2 Could Focus On This Rap Era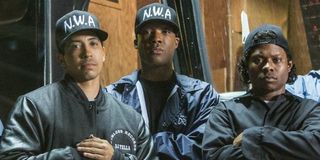 Universal's latest success story, Straight Outta Compton, continues to dominate the box office even after its third week in theaters. So, where should this story go from here? While a recent statement from the studio seemed to squash rumors of a sequel, a new project is being shopped around that features many of the same figures from the hip-hop drama.
According to The Hollywood Reporter, Welcome to Death Row is being shopped around for development as a feature film. Some critics (including yours truly) remarked that there was so much content covered in Straight Outta Compton on the rise, fall and aftermath of N.W.A. that it could've been split into multiple installments. Well, Welcome to Death Row, which is a 2001 documentary that spawned a book of the same name, centers on the years after N.W.A. formed. Ben Westoff of The Guardian called it "an explosive account of one of the most fascinating and controversial periods of music history." During this time frame, Dr. Dre (played by Corey Hawkins in Straight Outta Compton), Tupac Shakur (Marcc Rose) and Snoop Dogg (Keith Stanfield) were making solo careers for themselves, and Death Row Records' Suge Knight (R. Marcos Taylor) reigned supreme as one of the most feared music execs in the business.
Watch the trailer for the documentary below.
S. Leigh Savidge, who received a story and co-executive producer credit on Straight Outta Compton, made the documentary. The agency APA is trying to sell a package based on Welcome to Death Row and the book.
A week ago, Dogg Pound rapper Daz Dillinger told TMZ that a sequel to the hit film was already in the works and that it would pick up directly after the events of Straight Outta Compton. He also teased that this follow-up would similarly center on the rise of other hip-hop figures on the West Coast. Shortly afterwards, however, a rep for Universal told Entertainment Weekly that nothing was currently in the works.
A sequel shouldn't come as a surprise, considering the first film's massive success. As mentioned earlier, Straight Outta Compton has been the number one film in America for the past three weeks, and, at the time this article went to press, raked in $141.2 million worldwide. The film also helped Universal become the fastest studio to surpass $2 billion at the yearly domestic box office.
O'Shea Jackson Jr. portrayed his father Ice Cube in the film, which also starred Hawkins' Dre, Jason Mitchell's Eazy-E, Neil Brown Jr.'s DJ Yella, and Aldis Hodge's MC Ren. Universal has yet to announce a sequel, but if they pursued Welcome to Death Row, would you see it?
Your Daily Blend of Entertainment News
Thank you for signing up to CinemaBlend. You will receive a verification email shortly.
There was a problem. Please refresh the page and try again.