Straight Outta Compton Should Have Been 2 Movies, If Not More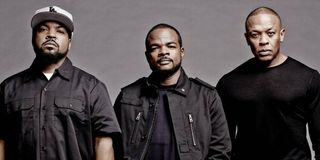 Rarely does one come out of a two-hour and 30-minute movie thinking that there needed to be more time spent on the story, or – better yet – a second movie expanding on the story that was presented. Yet, that's exactly how I felt exiting F. Gary Gray's certifiable blockbuster Straight Outta Compton, a blistering biopic that bites off a little more than it can chew while documenting the rise and fall of the gangster rap group N.W.A.
Gray's Straight Outta Compton gets so much right, establishing the political and social unrest in Compton, California in the mid-1980s that led to the creation of N.W.A. We are introduced to teenage artists Andre "Dr. Dre" Young, O'Shea "Ice Cube" Jackson, Eric "Eazy-E" Wright, DJ Yella, Arabian Prince, and Lorenzo "MC Ren" Patterson. As we get to know the men through their music, we understand the passion and anger that went into the creation of such aggressive lyrics in songs like "Fuck the Police," "Dopeman" and "Express Yourself." And for a full 90 minutes, Straight Outta Compton works incredibly well while it retains a focus on the formation of the group… and the predictable reasons why they eventually fell apart.
The last hour of Straight Outta Compton isn't as tight. It's no less compelling, and largely consists of plot points that deserved coverage. Except, they deserved more coverage than the snapshot glances that are afforded to bring Compton in at a theatrical-friendly 150-minute run time. F. Gary Gray has said that there exists a much longer director's cut of his film, and I can only speculate that the bulk of the footage was removed from the film's final hour, where Straight Outta Compton tries to address the various ways that N.W.A's music influenced the rap community – and the ways that the founding members floated in and out of each other's personal and professional universes – but realizes that there's only so much space to tell far too many stories.
If you had told me going into Straight Outta Compton that the N.W.A biopic needed to be a trilogy, I'd have laughed you out of the theater. Most biopics are one-sided puff pieces meant to deify the chosen artist, and too few have much to say beyond sampling the Greatest Hits that the musician recorded over the course of a short career. To be fair, Compton actually overlooks egregious acts by the lead characters, most notably Dr. Dre's documented cases of physical abuse. But this isn't a whitewashing of the rap group's legacy, even if it stops short of fully diving into the sheer number of people their fame impacted.
It's a complicated line to walk. There's no way to address Dre's post-N.W.A career without digging into Death Row Records, and his association with Suge Knight. But the Death Row portion of Dre's legacy provides enough material – easily – for its own movie. Instead, because it's an extended coda to the N.W.A story in Straight Outta Compton, we get glorified cameos for influential artists like Tupac (Marcc Rose), Warren G. (Sheldon A. Smith) and Snoop Dogg (Keith Stanfield). The D.O. Double G only gets two scenes, and they both basically exist so he can rap a few of his most famous lyrics with Dre. You immediately want more of him – and some of Eminem, or 50 Cent, or the story of Dre's collaborations with Apple on the Beats headphones… but that's not this movie. This is an N.W.A movie. So the little bits that we get are teases, which will leave you wanting more.
And that's just Dre. Ice Cube's life after N.W.A had so many interesting twists and turns, though most are merely glanced over in Straight Outta Compton. Naturally, the saga of Eazy-E also could have used more screen time, from his controversial relationship with Jerry Heller (Paul Giamatti) to his battle with HIV and eventual death. These are strong scenes in Compton that needed more time to breathe.
The issues of pacing mainly affect the last hour of Straight Outta Compton, and while they don't damage the intentions of the film, they clearly suggest that there is a LOT more story to tell here – and not just in a sequel, but in the details of the story that already has been committed to film by F. Gary Gray and his producers. I'm not certain what the future holds for gangster rap projects at Universal or other studios. There's no doubt the success of Compton will have studios scrambling for similar artists with compelling stories. But I hope one lesson that they take from Straight Outta Compton is that some stories need more time to be told, when you want to tell them properly.
Sean O'Connell is a journalist and CinemaBlend's Managing Editor. He's frequently found on Twitter at @Sean_OConnell. ReelBlend cohost. A movie junkie who's Infatuated with comic-book films. Helped get the Snyder Cut released, then wrote a book about it.
Your Daily Blend of Entertainment News
Thank you for signing up to CinemaBlend. You will receive a verification email shortly.
There was a problem. Please refresh the page and try again.