Straight Outta Compton Just Grabbed Another Incredible Box Office Record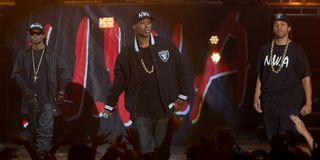 F. Gary Gray's Straight Outta Compton may not be as big as Jurassic World, but it still marks another major success for Universal this year. The film has helped the studio become the fastest of the Hollywood studios to surpass $2 billion at the yearly North American box office, and it remains in the number one spot at the box office after three straight weeks. Now, it's broken a major record in becoming the highest-grossing musical biopic in history.
Based on data from Box Office Mojo, the record was previous held by Walk the Line, which starred Joaquin Phoenix as Johnny Cash and Reese Witherspoon as June Carter. That Oscar-winning film has a lifetime box office gross of $119.5 million, while Straight Outta Compton, about the formation and disbanding of the iconic hip-hop group N.W.A, has surpassed that number with a total of $134.1 million — and in just three weeks!
That pushes Jamie Foxx's Ray Charles biopic Ray, the former second place holder, to number three. Coal Miner's Daughter starring Sissy Spacek as Loretta Lynn, and La Bamba starring Lou Diamond Phillips as Ritchie Valens round out the top five.
In Straight Outta Compton, O'Shea Jackson Jr. plays his father; Ice Cube, Corey Hawkins plays Dr. Dre; Jason Mitchell plays Eazy-E; Neil Brown Jr. plays DJ Yella; and Aldis Hodge plays MC Ren. Chronically the group's formation, rise to fame, and eventual split, the film covers a lot of material and could (and probably should) have been made into multiple movies. Since being released earlier this year, it has caused an interesting wave in pop culture. While it has been the source of some controversy, it's continued to garner attention from celebrities, including Selma director Ava DuVernay. The film's content even prompted the real Dr. Dre to issue an apology for his treatment of women during this time period — though, as pointed out, Straight Outta Compton doesn't fully depict the events that occurred.
Combined with the ticket sales from Fifty Shades of Grey, Furious 7, Minions, Jurassic World, Pitch Perfect 2, and Universal's other releases of 2015, Straight Outta Compton continues to lead the studio towards a ridiculous year. And it's not even over! Before the year's end, Universal will release Legend, in which Tom Hardy plays both leads; the Steve Jobs biopic starring Michael Fassbender; Guillermo del Toro's horror story Crimson Peak, which is being co-financed with Legendary; the adaptation of Jem and the Holograms; the star-studded Mount Everest film; Angelina Jolie and Brad Pitt's By the Sea; the horror film Krampus; and the Tina Fey-Amy Poehler comedy Sisters.
Your Daily Blend of Entertainment News